DOWNTOWN DADELAND - MIAMI-DADE COUNTY
March 16, 2009 updated photos:
The photos below were recently taken and they show the "glass skin" recently applied to the condominium office building.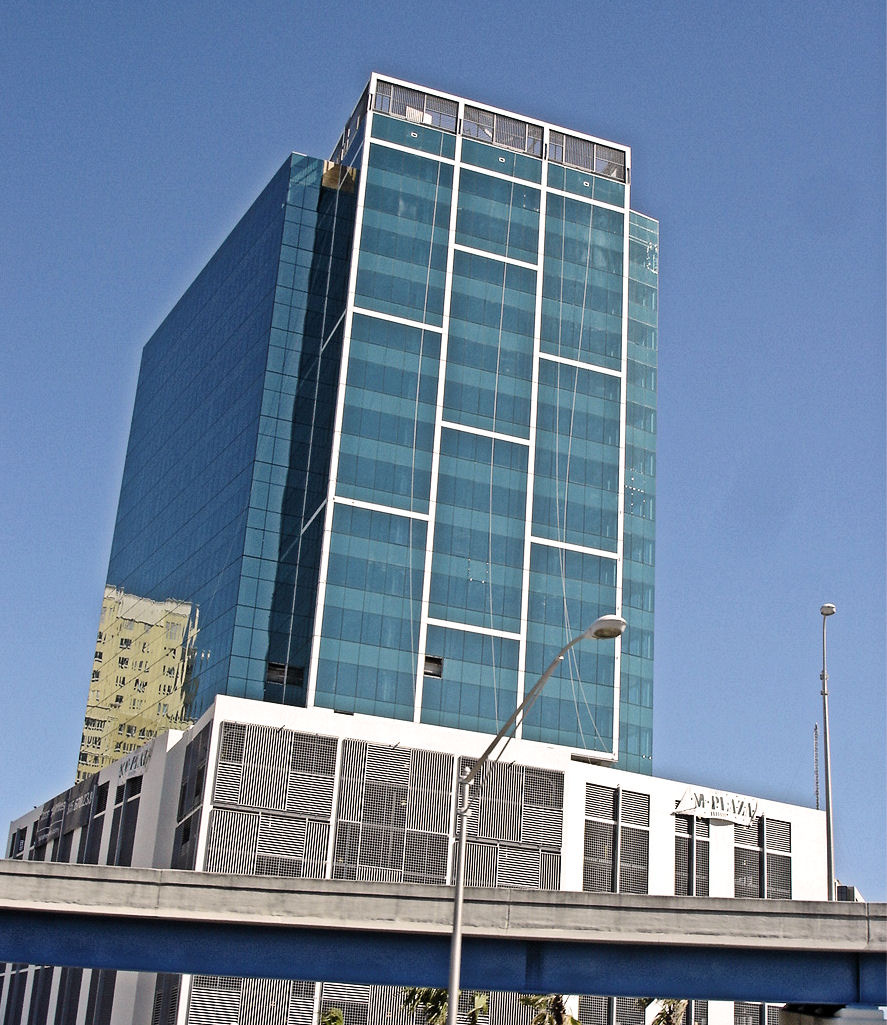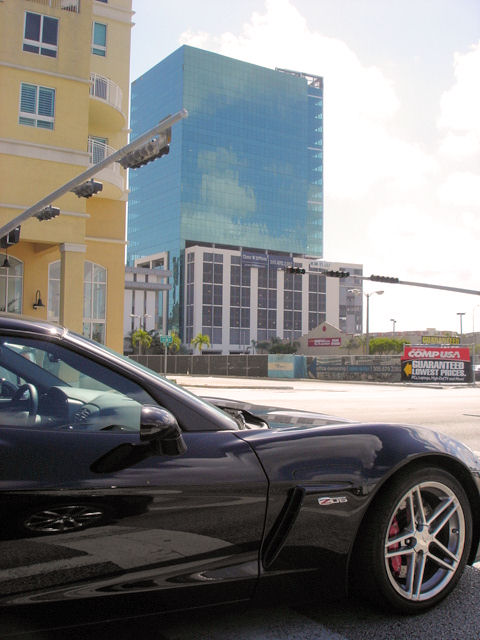 Downtown Dadeland is an approximate seven acre area south of the Dadeland mall, adjacent to the MetroRail Dadeland South station. The area is surrounded by The Village of Pinecrest, South Miami and Kendall.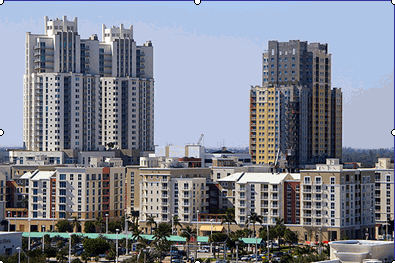 The former Downtown Kendall Master Plan charrette was formed with the help of Duany Plater-Zyberk under the direction of Chamber South.
The urban vision of Downtown Dadeland began in 1995 when the Chamber of Commerce, the county government and Kendall residents and businesses began working with Miami-Dade Transit, Florida's Eastward program, the South Florida Water Management District and other agencies to build consensus on the future of the neighborhood known as Downtown Dadeland. At that time, suburban Kendall's growth was sprawling around the Dadeland Mall.
With the addition of the final South Dade Metrorail station in the early 1980's and several large hotels and office buildings, including The Datran Center, the Dadeland area became a hub for business and shopping. Datran was designed by the late Jimmy Deen of South Miami.
Miami International Airport and Downtown Miami are easily accessible from State Road 826's interchange, located along Kendall Drive. Additionally, Downtown Dadeland is conveniently situated near the University of Miami, with access via the Metrorail system. Young professionals who work in the Datran complex as well as many who commute via the Metrorail to their jobs downtown are living in the Downtown Dadeland area.
Miami-Dade County's 1999 development code for Kendall was a blueprint for a massive transformation of the area. It included plans for 10 projects on 324 acres. Revised zoning set the stage to attract pedestrians, residents and mixed-use development with ground-floor shops and cafes. It also makes use of the county's big investment in mass transit, the MetroRail. Miami-Dade County helped create zoning codes for the massive plan of new urban development containing an architecturally varied cityscape designed around the pedestrian rather than the automobile.
Specifically, the county's metropolitan urban designation called for mixed-use designs as opposed to exclusively business or residential. Designs include retail components that meet the street, aesthetic pedestrian corridors, doors and windows facing streets, tightly framed streets to create a main-street feel along Kendall Drive, Dadeland Boulevard and Snapper Creek Canal, the three primary pedestrian corridors.
When fully built out and occupied, Downtown Kendall's population will be double the current size of Opa-Locka, according to county planner's estimate, with most residents living within walking distance of the Metrorail Rail. In contrast, the US Census in 2000 reported 3,800 residents in the eastern portion of Kendall, in unincorporated Miami-Dade County. Downtown Kendall's population is expected to cluster around Metrorail's Dadeland North and Dadeland South stations. This is a critical component of the county's plan to create population density around existing transit hubs, instead of sprawling development that clogs roads and highways.
Below are several of the projects and developers in Downtown Dadeland:
Downtown Dadeland - 416 condo units by Gulfside Development Co.
Marriott Courtyard (City Kendall) - 128 guest rooms by MDM Hotel Group
The Colonnade - 555 condominiums and townhouse units by Lennar Homes
Towers of Dadeland - 218 convertible apartments by The Green Companies
Dadeland Mall - 185 stores, the regional mall is known as one of Miami's premier centers
Most include a retail component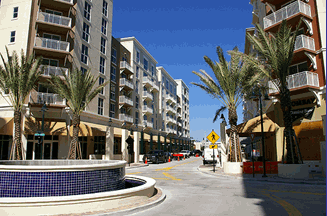 but are largely residential in nature, leading planners to forecast up to 35,000 new residents moving to the area. A large portion of Downtown Dadeland commercial and residential units remain vacant. This is because a majority of the units were purchased by speculators during pre-construction when the condominium market in South Florida was booming from the years 2003 to 2006. This oversupply of residential condominiums in the Downtown Kendall market area has affected the supply v. demand in the area extending marketing times. The absorption rate prior to the economic crisis of the last quarter of 2008 had been slow.
Of the new developments in this area Downtown Dadeland is the largest development, occupying 7½ acres of land, located at the old "Williamson Cadillac" site. The development contains seven buildings with approximately 125,000 square feet of retail space, and approximately 416 residential units. Anchor tenants include Pier 1, Cargo Kids, The Bombay Company, Chili's, Macaroni Grill, Men's Warehouse, and Sprint. A large ground level retail section of this site was recently taken back by the lender in foreclosure and will be re-marketed.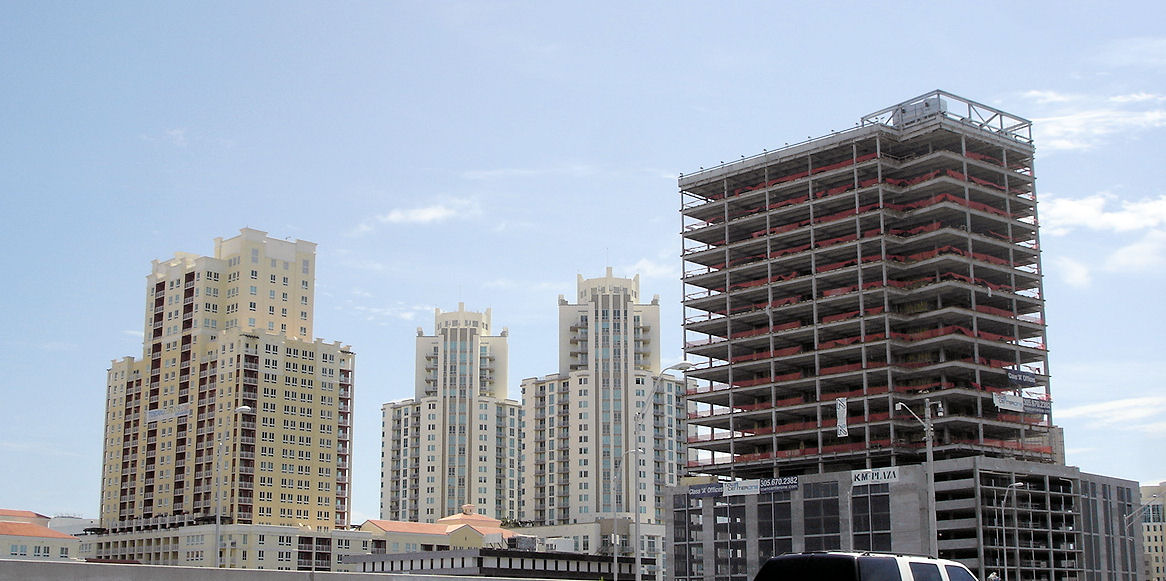 The photo above is Toscano, Metropolis and the new Town Center Dadeland One office tower being constructed adjacent to the Palmetto Expressway. The photo is taken from the Palmetto (State Road 826), looking southeast. The Downtown Dadeland complex is not shown in this photo.
&nbsp
For Rent: 600 Three Island Boulevard – 2 Bed 2 Bath for $1,700
11/13/2018 2:46 PM
Beautiful 2 bed 2 bath condo with amazing panoramic views in the great location of Hallandale Beach. Stainless Steel appliances with renovated details in the kitchen and bathrooms. This ample and bright unit is close to the beach, malls, restaurants, casino, and the GulfStream. You will enjoy a shuttle service, heated pools, tennis court, fitnes...Read More
&nbsp
Open House at Gables Marquis on November 18
11/13/2018 2:35 PM
Stop by 3232 SW 22 St Unit #202, Miami, FL this Sunday to see this beautifully renovated unit. 2/2 with a spacious split floor plan. Features two parking spaces plus an extra storage unit. Great amenities, and just two blocks from Miracle Mile! Seller motivated to sell! Open House: November 18 from 2 PM to 4 PM... The post Read More
&nbsp
What are The Best Miami Neighborhoods for Boat Lovers?
11/12/2018 4:26 PM
What are the Best Miami Neighborhoods for Boaters?   For many, 'life on the water' is one of the biggest pulls for home buying in South Florida. Those looking to live in Miami often look for Miami homes with a boat dock or a Miami condo that offers a boat slip. In this section we offer... The post Read More
&nbsp
Two Sunday Open Houses in Coconut Grove
11/12/2018 8:42 AM
Hello! On Sunday, November 11th we will be hosting two open houses in Coconut Grove. This is a great opportunity to visit each property and get a feel of what they are all about. Details are below. If you have any questions or would like to book a private showing, please contact us: TheTeam@GroveExperts.com. 3316 Devon Court Open....Read More
&nbsp
Three Open Houses this Weekend in Coral Gables and Coconut Grove
11/9/2018 2:23 PM
JOIN US FOR THREE OPEN HOUSES THIS WEEKEND IN CORAL GABLES AND COCONUT GROVE     Saturday, November 10th  6511 Maynada Street in Coral Gables | 1 PM – 5 PM Sunday, November 11th:  6511 Maynada Street in Coral Gables | 1 PM – 5 PM 3900 Battersea Rd, Coconut Grove |  1 PM R...Read More
&nbsp
57 Ocean on Miami Beach
11/8/2018 3:50 PM
57 Ocean Condo | It's Oceanfront, It's New, and It's Luxurious   57 Ocean on Miami Beach is a brand new luxury condo right on the Miami Beach sand. The tower offers only 81 residences divided over 18 floors. A creation of Arquitectonica, this condo is slated to be finished in 2021 and offers 2-4... The post Read More
&nbsp
Just Listed in Coconut Grove | 3Br, 3Ba Home for Rent
11/8/2018 8:44 AM
We are pleased to share with you our newest listing in South Coconut Grove   3927 S Douglas Road   A 1923 "Old Spanish" style home located in the heart of prestigious South Coconut Grove 3 Bedrooms | 3 Bathrooms One bedroom is detached from the main house The expansive living room has exposed pickled cypress...Read More
&nbsp
The Best Neighborhood in Miami Part 2: The Best Miami Neighborhoods with a Beach
11/6/2018 10:39 AM
Which Miami Neighborhoods offer the Best Beach Life?   When you move to a tropical paradise like Miami, you might want to live near a beach to cool down on hot summer (or winter) days. We selected the best Miami communities for you that offer a beach within 5 minutes distance. There are, however, many... The post Read More
&nbsp
What Are the Best South of Fifth Condos For Sale in 2019?
11/6/2018 10:33 AM
The Best 5 Condos for Sale in South of Fifth – The 2019 Update   The below is a list of the best South of Fifth condos for sale in 2019! Remember it is the unit by unit analysis that matters and although we may be general advocates of a building, it does not mean... The post Read More
&nbsp
Just Listed at the Club at Brickell Bay – Fully Furnished Rental 1bed/1bath
11/6/2018 10:18 AM
Spacious and bright FURNISHED 1bed/1bath unit on the 41st floor. Gorgeous views of the bay and beautifully furnished with modern décor. Fully equipped open kitchen with Samsung SS appliances and counter seating. 2 walk in closets, washer & dryer in the unit, and 2 entrances for the bathroom. Water, cable, and internet included. Resort l...Read More
---
There was a problem returning the RSS feed.