DOWNTOWN DADELAND - MIAMI-DADE COUNTY
March 16, 2009 updated photos:
The photos below were recently taken and they show the "glass skin" recently applied to the condominium office building.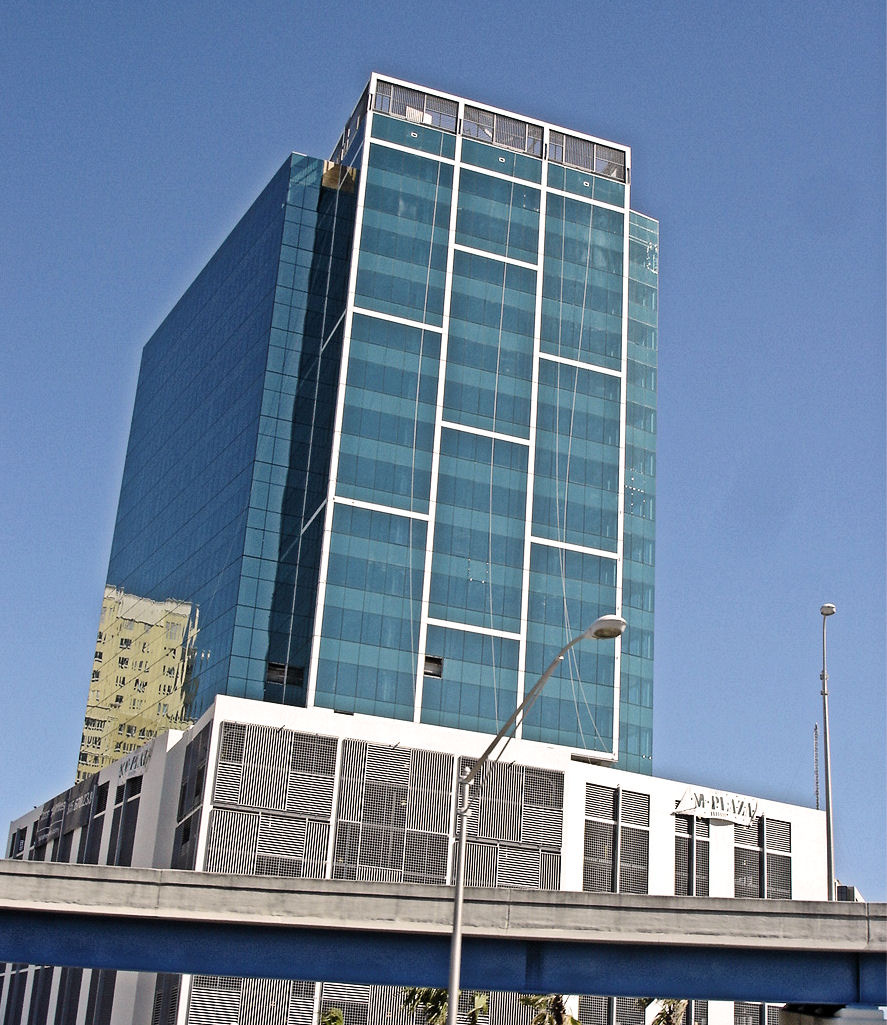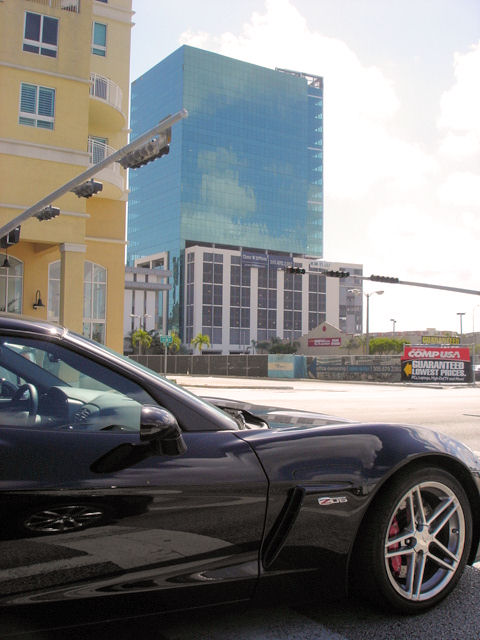 Downtown Dadeland is an approximate seven acre area south of the Dadeland mall, adjacent to the MetroRail Dadeland South station. The area is surrounded by The Village of Pinecrest, South Miami and Kendall.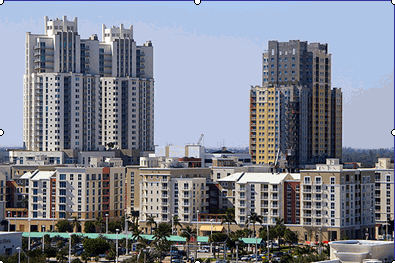 The former Downtown Kendall Master Plan charrette was formed with the help of Duany Plater-Zyberk under the direction of Chamber South.
The urban vision of Downtown Dadeland began in 1995 when the Chamber of Commerce, the county government and Kendall residents and businesses began working with Miami-Dade Transit, Florida's Eastward program, the South Florida Water Management District and other agencies to build consensus on the future of the neighborhood known as Downtown Dadeland. At that time, suburban Kendall's growth was sprawling around the Dadeland Mall.
With the addition of the final South Dade Metrorail station in the early 1980's and several large hotels and office buildings, including The Datran Center, the Dadeland area became a hub for business and shopping. Datran was designed by the late Jimmy Deen of South Miami.
Miami International Airport and Downtown Miami are easily accessible from State Road 826's interchange, located along Kendall Drive. Additionally, Downtown Dadeland is conveniently situated near the University of Miami, with access via the Metrorail system. Young professionals who work in the Datran complex as well as many who commute via the Metrorail to their jobs downtown are living in the Downtown Dadeland area.
Miami-Dade County's 1999 development code for Kendall was a blueprint for a massive transformation of the area. It included plans for 10 projects on 324 acres. Revised zoning set the stage to attract pedestrians, residents and mixed-use development with ground-floor shops and cafes. It also makes use of the county's big investment in mass transit, the MetroRail. Miami-Dade County helped create zoning codes for the massive plan of new urban development containing an architecturally varied cityscape designed around the pedestrian rather than the automobile.
Specifically, the county's metropolitan urban designation called for mixed-use designs as opposed to exclusively business or residential. Designs include retail components that meet the street, aesthetic pedestrian corridors, doors and windows facing streets, tightly framed streets to create a main-street feel along Kendall Drive, Dadeland Boulevard and Snapper Creek Canal, the three primary pedestrian corridors.
When fully built out and occupied, Downtown Kendall's population will be double the current size of Opa-Locka, according to county planner's estimate, with most residents living within walking distance of the Metrorail Rail. In contrast, the US Census in 2000 reported 3,800 residents in the eastern portion of Kendall, in unincorporated Miami-Dade County. Downtown Kendall's population is expected to cluster around Metrorail's Dadeland North and Dadeland South stations. This is a critical component of the county's plan to create population density around existing transit hubs, instead of sprawling development that clogs roads and highways.
Below are several of the projects and developers in Downtown Dadeland:
Downtown Dadeland - 416 condo units by Gulfside Development Co.
Marriott Courtyard (City Kendall) - 128 guest rooms by MDM Hotel Group
The Colonnade - 555 condominiums and townhouse units by Lennar Homes
Towers of Dadeland - 218 convertible apartments by The Green Companies
Dadeland Mall - 185 stores, the regional mall is known as one of Miami's premier centers
Most include a retail component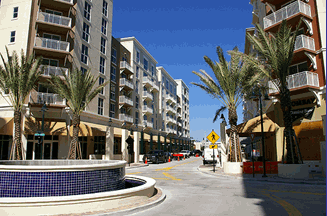 but are largely residential in nature, leading planners to forecast up to 35,000 new residents moving to the area. A large portion of Downtown Dadeland commercial and residential units remain vacant. This is because a majority of the units were purchased by speculators during pre-construction when the condominium market in South Florida was booming from the years 2003 to 2006. This oversupply of residential condominiums in the Downtown Kendall market area has affected the supply v. demand in the area extending marketing times. The absorption rate prior to the economic crisis of the last quarter of 2008 had been slow.
Of the new developments in this area Downtown Dadeland is the largest development, occupying 7½ acres of land, located at the old "Williamson Cadillac" site. The development contains seven buildings with approximately 125,000 square feet of retail space, and approximately 416 residential units. Anchor tenants include Pier 1, Cargo Kids, The Bombay Company, Chili's, Macaroni Grill, Men's Warehouse, and Sprint. A large ground level retail section of this site was recently taken back by the lender in foreclosure and will be re-marketed.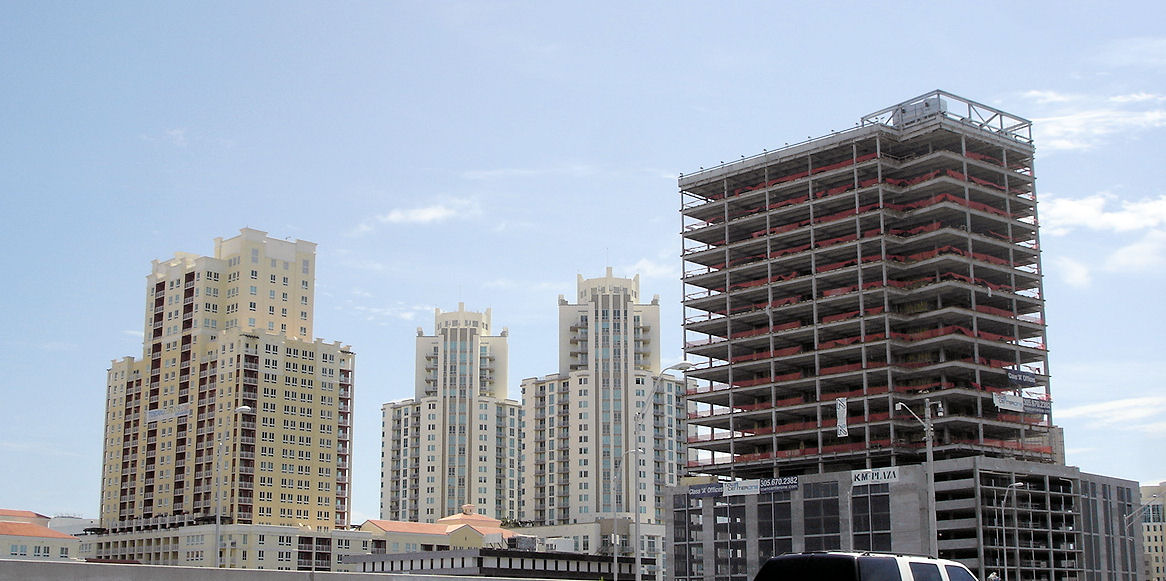 The photo above is Toscano, Metropolis and the new Town Center Dadeland One office tower being constructed adjacent to the Palmetto Expressway. The photo is taken from the Palmetto (State Road 826), looking southeast. The Downtown Dadeland complex is not shown in this photo.
&nbsp
South Miami Open House Sunday Dec. 4th 3:00 – 5:00
12/3/2016 8:38 PM
A gorgeous new contemporary home designed by EastShore Architects is days from completion in South Miami. The home is being constructed by a leading local developer whose work utilizes only the highest quality of finishes and includes a custom gourmet kitchen, 1 3/4 " solid wood doors, volume ceilings, and top of the line appliances. […...Read More
&nbsp
Fabulous Pinetree Estate SOLD for $4M
12/2/2016 2:32 PM
5454 Pinetree Drive Miami Beach FL has sold $4,000,000.  This stately, impressive, and visually stunning estate set in over 15,000 sq. ft. of spectacular grounds. The magnificent house, parts of which date back to 1928, has been skillfully renovated to create a titillating, yet peaceful luxurious haven. Recent renovations include the newly bui...Read More
&nbsp
OPEN HOUSE THIS SUNDAY – 5 Bedroom Home in South Coral Gables
12/2/2016 11:16 AM
Two – Story Single Family Home in South Coral Gables 5 Bedrooms | 5 Bathrooms | 4,200 Sq.Ft | 10,655 Sq.Ft Lot | $1,890,000 Open House  Sunday December 4 2 – 4 PM 6845 Veronese St This 2-story home is located in one of Miami's most desired neighborhoods: South Coral Gables. The hou...Read More
&nbsp
SOLD! Great Income Producing Investment Unit
12/2/2016 11:15 AM
              My Buyer was thrilled to close yesterday on a 1 bedroom waterfront unit at the Quantum on the Bay Condo.  This 1 bedroom 794 SF unit  has a great open floor plan.  All the rooms and the bathroom have windows giving the apartment beautiful natural light.  The master bedroom [&...Read More
&nbsp
The Changing Face Of South Miami and High Pines Homes
12/1/2016 4:19 PM
The residential communities of High Pines and South Miami, between South Dixie Highway and Red Road, have seen an incredible change over the last few years as old homes are torn down only to be replaced by new expensive homes… The 1st picture shows an old 2 bedroom 1 bath Florida bungalow at 6111 SW […...Read More
&nbsp
The Schnabel Team Presents: A Guide to Wynwood's Newest Murals
11/29/2016 2:05 PM
Originally published by MiamiNewTimes.com as "Miami Street Artists Deliver Progressive Messages in New Murals" on 11/29/2016 by Mario Ariza   Every year, toward the end of November, the streets of Wynwood start crawling with dudes carrying ladders and ladies driving scissor lifts. The back alleys ring with the rattle of s...Read More
&nbsp
Bellini Penthouse 1 – The Ultimate South Florida Lifestyle!
11/28/2016 4:30 PM
Bellini is the gem of Williams Island, highlighted by its modern style, open living spaces, contemporary details, state-of-the-art features, and wraparound balconies that offer awe-inspiring views, nestled amidst this private and elite gated community dubbed "The Florida Riviera." The 24-story elliptical-shaped tower is complemented by an array of ...Read More
&nbsp
The University of Miami Herbert Wellness Center Celebrates 20 Years!
11/28/2016 10:52 AM
After a fun and indulgent Thanksgiving weekend, I am thankful for the University of Miami Wellness Center. The Patti and Allan Herbert Wellness Center on the Coral Gables campus opened in 1996 and is now celebrating its 20th anniversary. The Herbert Wellness Center is a premier fitness and recreation facility. Des...Read More
&nbsp
NEW LISTING IN SOUTH MIAMI!
11/25/2016 2:23 PM
Beautifully updated South Miami home with modern touches everywhere, this charmer is move-in ready! Brand new tile floors throughout, impact windows with french doors that lead out to an amazing patio/backyard space that has room for a pool. This open concept home has surround sound, recessed lighting, crown molding, new kitchen cabinets (plenty of...Read More
&nbsp
The Schnabel Team: A Thanksgiving Treat in Doral!
11/23/2016 10:39 PM
4984 NW 97 Place Unit 301 Just in time for the holidays, this 1 bedroom/1.5 bath,  899 SQF townhouse is a a charming property for couples or investors. You'll feel safe and comfortable in The Greens at Doral, a gated community. Recently renovated, the unit features all-new stainless appliances, vanities, hardwood floors, b...Read More
---
There was a problem returning the RSS feed.