DOWNTOWN DADELAND - MIAMI-DADE COUNTY
March 16, 2009 updated photos:
The photos below were recently taken and they show the "glass skin" recently applied to the condominium office building.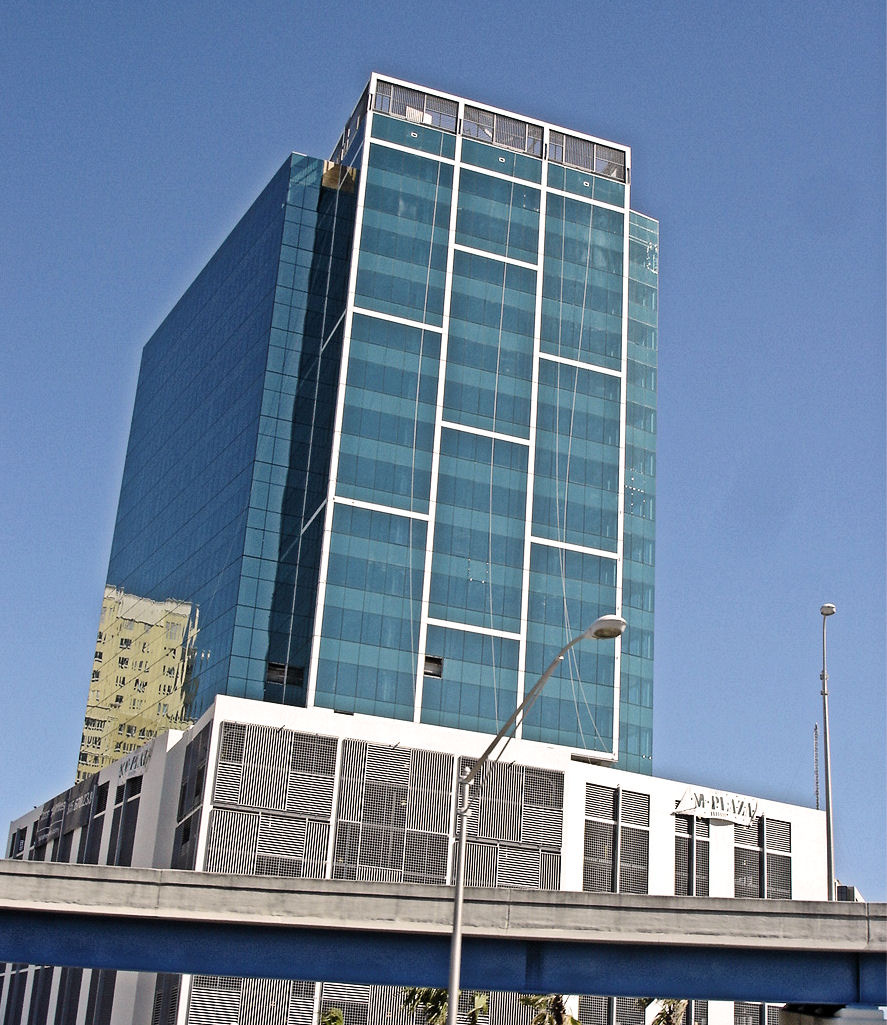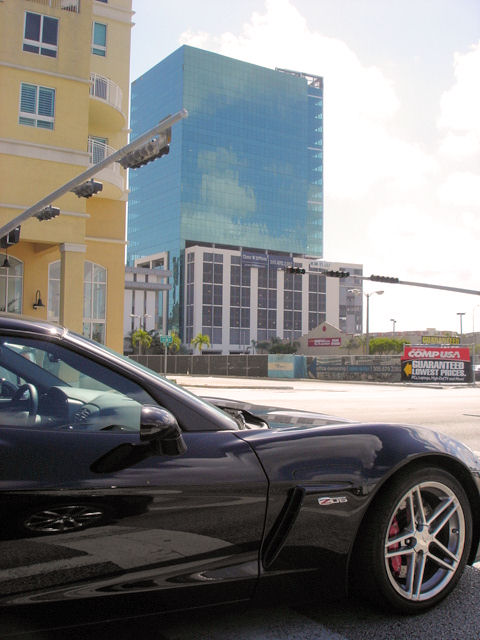 Downtown Dadeland is an approximate seven acre area south of the Dadeland mall, adjacent to the MetroRail Dadeland South station. The area is surrounded by The Village of Pinecrest, South Miami and Kendall.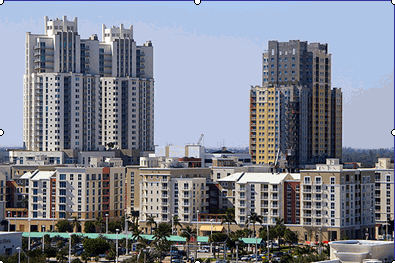 The former Downtown Kendall Master Plan charrette was formed with the help of Duany Plater-Zyberk under the direction of Chamber South.
The urban vision of Downtown Dadeland began in 1995 when the Chamber of Commerce, the county government and Kendall residents and businesses began working with Miami-Dade Transit, Florida's Eastward program, the South Florida Water Management District and other agencies to build consensus on the future of the neighborhood known as Downtown Dadeland. At that time, suburban Kendall's growth was sprawling around the Dadeland Mall.
With the addition of the final South Dade Metrorail station in the early 1980's and several large hotels and office buildings, including The Datran Center, the Dadeland area became a hub for business and shopping. Datran was designed by the late Jimmy Deen of South Miami.
Miami International Airport and Downtown Miami are easily accessible from State Road 826's interchange, located along Kendall Drive. Additionally, Downtown Dadeland is conveniently situated near the University of Miami, with access via the Metrorail system. Young professionals who work in the Datran complex as well as many who commute via the Metrorail to their jobs downtown are living in the Downtown Dadeland area.
Miami-Dade County's 1999 development code for Kendall was a blueprint for a massive transformation of the area. It included plans for 10 projects on 324 acres. Revised zoning set the stage to attract pedestrians, residents and mixed-use development with ground-floor shops and cafes. It also makes use of the county's big investment in mass transit, the MetroRail. Miami-Dade County helped create zoning codes for the massive plan of new urban development containing an architecturally varied cityscape designed around the pedestrian rather than the automobile.
Specifically, the county's metropolitan urban designation called for mixed-use designs as opposed to exclusively business or residential. Designs include retail components that meet the street, aesthetic pedestrian corridors, doors and windows facing streets, tightly framed streets to create a main-street feel along Kendall Drive, Dadeland Boulevard and Snapper Creek Canal, the three primary pedestrian corridors.
When fully built out and occupied, Downtown Kendall's population will be double the current size of Opa-Locka, according to county planner's estimate, with most residents living within walking distance of the Metrorail Rail. In contrast, the US Census in 2000 reported 3,800 residents in the eastern portion of Kendall, in unincorporated Miami-Dade County. Downtown Kendall's population is expected to cluster around Metrorail's Dadeland North and Dadeland South stations. This is a critical component of the county's plan to create population density around existing transit hubs, instead of sprawling development that clogs roads and highways.
Below are several of the projects and developers in Downtown Dadeland:
Downtown Dadeland - 416 condo units by Gulfside Development Co.
Marriott Courtyard (City Kendall) - 128 guest rooms by MDM Hotel Group
The Colonnade - 555 condominiums and townhouse units by Lennar Homes
Towers of Dadeland - 218 convertible apartments by The Green Companies
Dadeland Mall - 185 stores, the regional mall is known as one of Miami's premier centers
Most include a retail component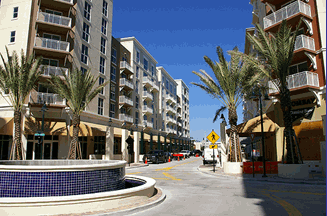 but are largely residential in nature, leading planners to forecast up to 35,000 new residents moving to the area. A large portion of Downtown Dadeland commercial and residential units remain vacant. This is because a majority of the units were purchased by speculators during pre-construction when the condominium market in South Florida was booming from the years 2003 to 2006. This oversupply of residential condominiums in the Downtown Kendall market area has affected the supply v. demand in the area extending marketing times. The absorption rate prior to the economic crisis of the last quarter of 2008 had been slow.
Of the new developments in this area Downtown Dadeland is the largest development, occupying 7½ acres of land, located at the old "Williamson Cadillac" site. The development contains seven buildings with approximately 125,000 square feet of retail space, and approximately 416 residential units. Anchor tenants include Pier 1, Cargo Kids, The Bombay Company, Chili's, Macaroni Grill, Men's Warehouse, and Sprint. A large ground level retail section of this site was recently taken back by the lender in foreclosure and will be re-marketed.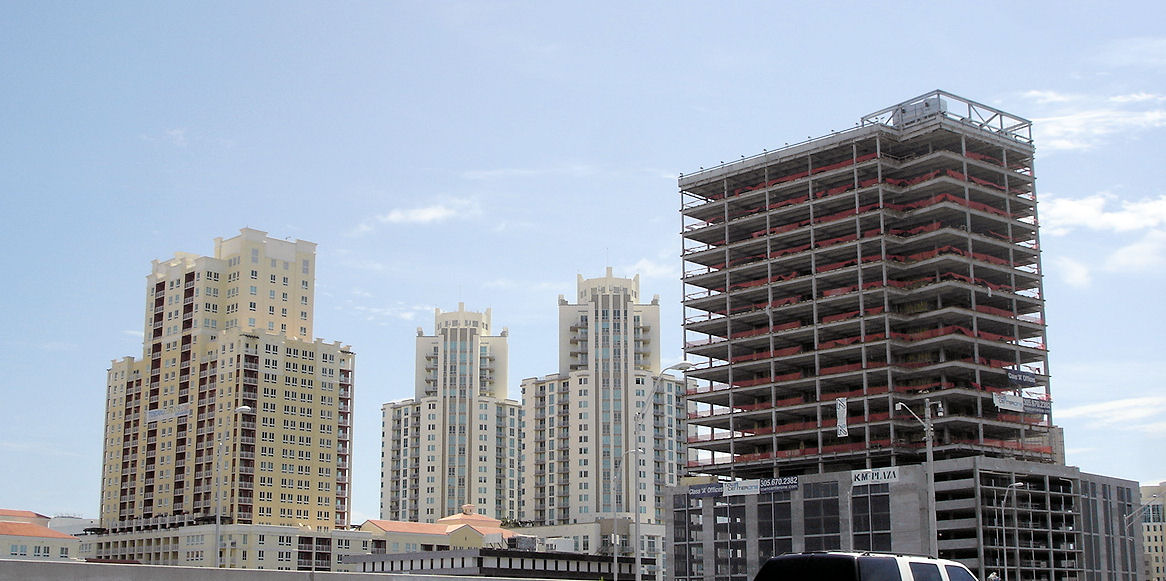 The photo above is Toscano, Metropolis and the new Town Center Dadeland One office tower being constructed adjacent to the Palmetto Expressway. The photo is taken from the Palmetto (State Road 826), looking southeast. The Downtown Dadeland complex is not shown in this photo.
&nbsp
Just Listed – Remodeled Mangowood Home in Palmetto Bay
9/19/2018 12:24 PM
Located in Mangowood in the heart of Palmetto Bay is a beautiful remodeled home with lots of natural light and warmth. A gorgeous European style kitchen with custom wood cabinets, stainless steel appliances and a stone back splash, plus an extra large island with a beautiful wood top and counter seating is PERFECT for entertaining... The ...Read More
&nbsp
Beautifully Remodeled Unit 3232 SW 22 St Miami, FL Unit #202
9/19/2018 12:19 PM
Come and see this recently remodeled unit. Luxurious finishes and tile floors are featured throughout the spacious split floor plan. 2 bedrooms/ 2 bathrooms. Amenities include a rooftop heated pool, sauna, clubhouse, BBQ area, gym, 24 hour concierge/security, and a business center. Located just 2 blocks from miracle mile and 2 miles from the Bri...Read More
&nbsp
Open Saturday, September 22nd from 3PM – 5PM | 1245 Messina
9/18/2018 2:07 PM
Owner wants offers on this 4 bedroom, 3 bathroom, 2 story modern corner home. A master with private balcony and great closet space plus two bedrooms and bathroom are on second story. The fourth bedroom with bath has French doors that open to the patio and is ideal for guest or office. The living areas are distinct... The post Read More
&nbsp
The Coconut Grove Journal of Real Estate: Single-Family Homes
9/17/2018 4:33 PM
In this issue of the Coconut Grove Journal of Real Estate, we examine the 2018 midyear performance for the Coconut Grove single-family home market. "The market is as strong as it ever has been." You will find information on the market trends and available inventory for sale. Click here to read more  Thinking about selling?...Read More
&nbsp
Four Open Houses Tomorrow, September 16th | Coconut Grove and Coral Gables
9/17/2018 11:41 AM
We'll Be Waiting for You at Four Open Houses Tomorrow, September 16th In Coconut Grove and Coral Gables Plus Price Repositions 3316 Devon Court Coconut Grove 1:00 p.m.-3:00 p.m. 5 Bedrooms | 5.5 Bathrooms 17,150 SF Lot Price Reposition Now Offered at $5,888,000 Click here for more information 4131 Lybyer Avenue Coconut Grove 1:00 p.m.-...Read More
&nbsp
Join us for Our Miami Open Houses this Sunday
9/14/2018 12:38 PM
Five Open Houses this Sunday   – 247 East Shore Dr, Coconut Grove | $1,350,000 |  3 PM – 5 PM – 3820 Loquat Ave, Coconut Grove | $2,300,000 | 12 PM – 2 PM – 7901 SW 53rd Pl, High Pines |  $2,695,000 | 12 PM – 2 PM – 2769 SW 22nd Ave, Coconut... The...Read More
&nbsp
OPEN HOUSE 9/15-16 – Saturday & Sunday – Upper Eastside Retreat on the Bay, at 720 NE 62nd St #303
9/14/2018 12:30 PM
You are cordially invited to tour this quiet urban Upper Eastside retreat on the Bay this Saturday and Sunday, September 15th and 16th.   IOS on the Bay – 720 NE 62nd St. #303 SATURDAY, September 15th, from 1PM – 3PM / Text or Dial Nadjalisse Rodriguez for access to the unit — (56...Read More
&nbsp
PALMETTO BAY OPEN SATURDAY 2PM-5PM | 13650 SW 78 CT
9/14/2018 9:43 AM
Spacious family home on quiet street in Palmetto Bay featuring 4BR/2BA on a 15,000+ sqft lot with French doors & plantation shutters that open to a huge beautifully landscaped back yard w/ pool. Open space plan features dining, 2 living rooms + den. New roof, AC & circular driveway. Best area for Private schools and... The post Read More
&nbsp
Open Sunday – 435 Tivoli – Coral Gables
9/14/2018 9:20 AM
             Unique Architectural Design   This spectacular contemporary home is redesigned and upgraded to the maximum current standards. It is evident the moment you step up through the front door you will encounter the epitome of modernism, functional design, simple lines, double ceilings, and panoramic...Read More
&nbsp
Open Sunday: 1000 LUGO & 13679 DEERING BAY DRIVE
9/13/2018 12:31 PM
OPEN Sunday 2PM – 5PM! Newly Listed; Direct Ocean Access 1000 Lugo Ave in Gables by the Sea. Direct ocean access home with 100' seawall, dock & davits on wide waterway, no bridges to Biscayne Bay in gated Gables by the Sea. 1970 Keys style 3/2.5 2-story home on 11,500 SF waterfront lot filled with... The post Read More
---
There was a problem returning the RSS feed.