DOWNTOWN DADELAND - MIAMI-DADE COUNTY
March 16, 2009 updated photos:
The photos below were recently taken and they show the "glass skin" recently applied to the condominium office building.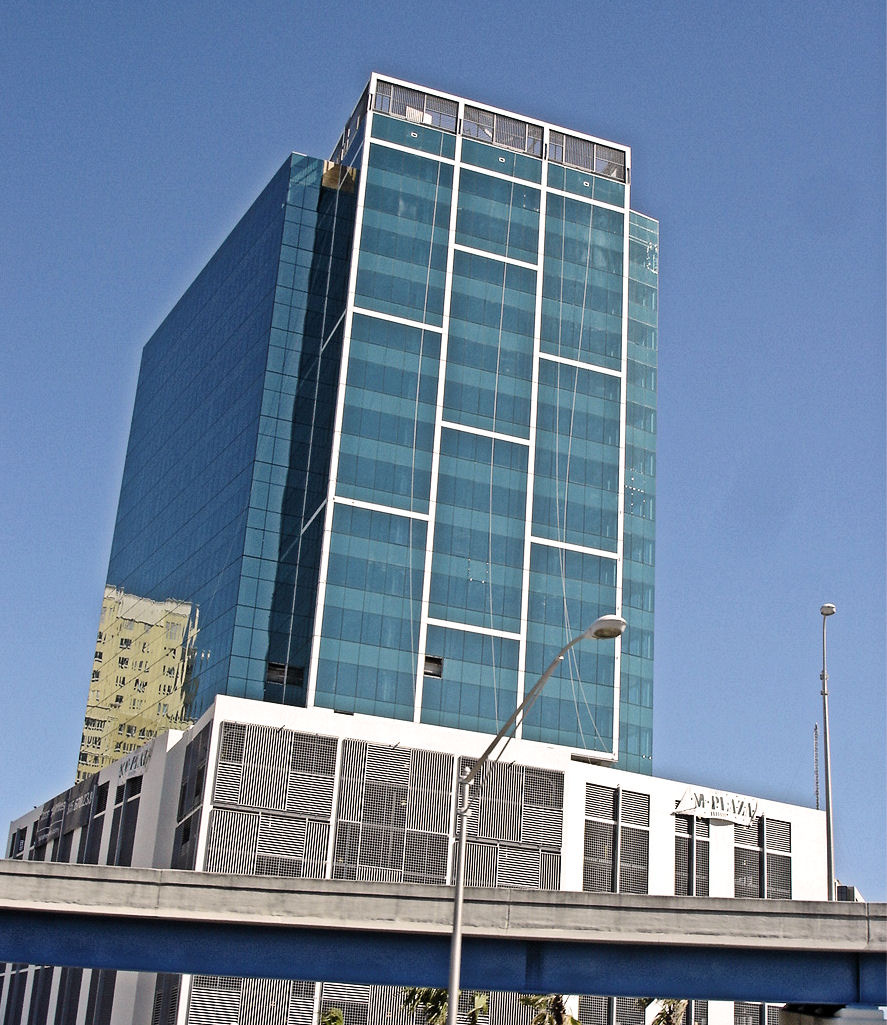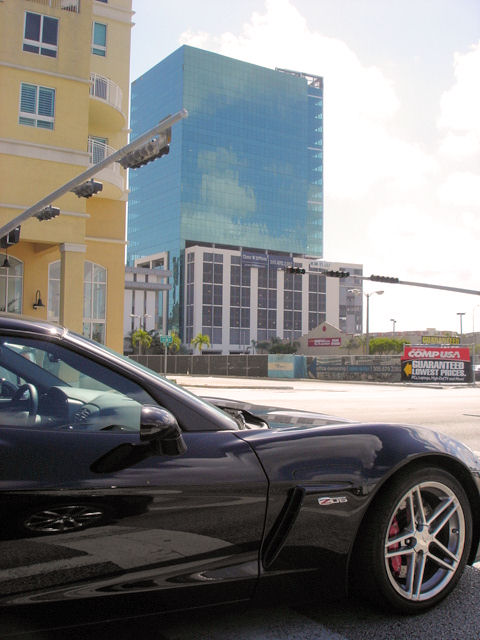 Downtown Dadeland is an approximate seven acre area south of the Dadeland mall, adjacent to the MetroRail Dadeland South station. The area is surrounded by The Village of Pinecrest, South Miami and Kendall.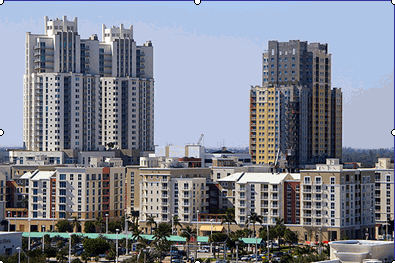 The former Downtown Kendall Master Plan charrette was formed with the help of Duany Plater-Zyberk under the direction of Chamber South.
The urban vision of Downtown Dadeland began in 1995 when the Chamber of Commerce, the county government and Kendall residents and businesses began working with Miami-Dade Transit, Florida's Eastward program, the South Florida Water Management District and other agencies to build consensus on the future of the neighborhood known as Downtown Dadeland. At that time, suburban Kendall's growth was sprawling around the Dadeland Mall.
With the addition of the final South Dade Metrorail station in the early 1980's and several large hotels and office buildings, including The Datran Center, the Dadeland area became a hub for business and shopping. Datran was designed by the late Jimmy Deen of South Miami.
Miami International Airport and Downtown Miami are easily accessible from State Road 826's interchange, located along Kendall Drive. Additionally, Downtown Dadeland is conveniently situated near the University of Miami, with access via the Metrorail system. Young professionals who work in the Datran complex as well as many who commute via the Metrorail to their jobs downtown are living in the Downtown Dadeland area.
Miami-Dade County's 1999 development code for Kendall was a blueprint for a massive transformation of the area. It included plans for 10 projects on 324 acres. Revised zoning set the stage to attract pedestrians, residents and mixed-use development with ground-floor shops and cafes. It also makes use of the county's big investment in mass transit, the MetroRail. Miami-Dade County helped create zoning codes for the massive plan of new urban development containing an architecturally varied cityscape designed around the pedestrian rather than the automobile.
Specifically, the county's metropolitan urban designation called for mixed-use designs as opposed to exclusively business or residential. Designs include retail components that meet the street, aesthetic pedestrian corridors, doors and windows facing streets, tightly framed streets to create a main-street feel along Kendall Drive, Dadeland Boulevard and Snapper Creek Canal, the three primary pedestrian corridors.
When fully built out and occupied, Downtown Kendall's population will be double the current size of Opa-Locka, according to county planner's estimate, with most residents living within walking distance of the Metrorail Rail. In contrast, the US Census in 2000 reported 3,800 residents in the eastern portion of Kendall, in unincorporated Miami-Dade County. Downtown Kendall's population is expected to cluster around Metrorail's Dadeland North and Dadeland South stations. This is a critical component of the county's plan to create population density around existing transit hubs, instead of sprawling development that clogs roads and highways.
Below are several of the projects and developers in Downtown Dadeland:
Downtown Dadeland - 416 condo units by Gulfside Development Co.
Marriott Courtyard (City Kendall) - 128 guest rooms by MDM Hotel Group
The Colonnade - 555 condominiums and townhouse units by Lennar Homes
Towers of Dadeland - 218 convertible apartments by The Green Companies
Dadeland Mall - 185 stores, the regional mall is known as one of Miami's premier centers
Most include a retail component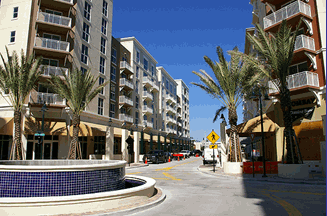 but are largely residential in nature, leading planners to forecast up to 35,000 new residents moving to the area. A large portion of Downtown Dadeland commercial and residential units remain vacant. This is because a majority of the units were purchased by speculators during pre-construction when the condominium market in South Florida was booming from the years 2003 to 2006. This oversupply of residential condominiums in the Downtown Kendall market area has affected the supply v. demand in the area extending marketing times. The absorption rate prior to the economic crisis of the last quarter of 2008 had been slow.
Of the new developments in this area Downtown Dadeland is the largest development, occupying 7½ acres of land, located at the old "Williamson Cadillac" site. The development contains seven buildings with approximately 125,000 square feet of retail space, and approximately 416 residential units. Anchor tenants include Pier 1, Cargo Kids, The Bombay Company, Chili's, Macaroni Grill, Men's Warehouse, and Sprint. A large ground level retail section of this site was recently taken back by the lender in foreclosure and will be re-marketed.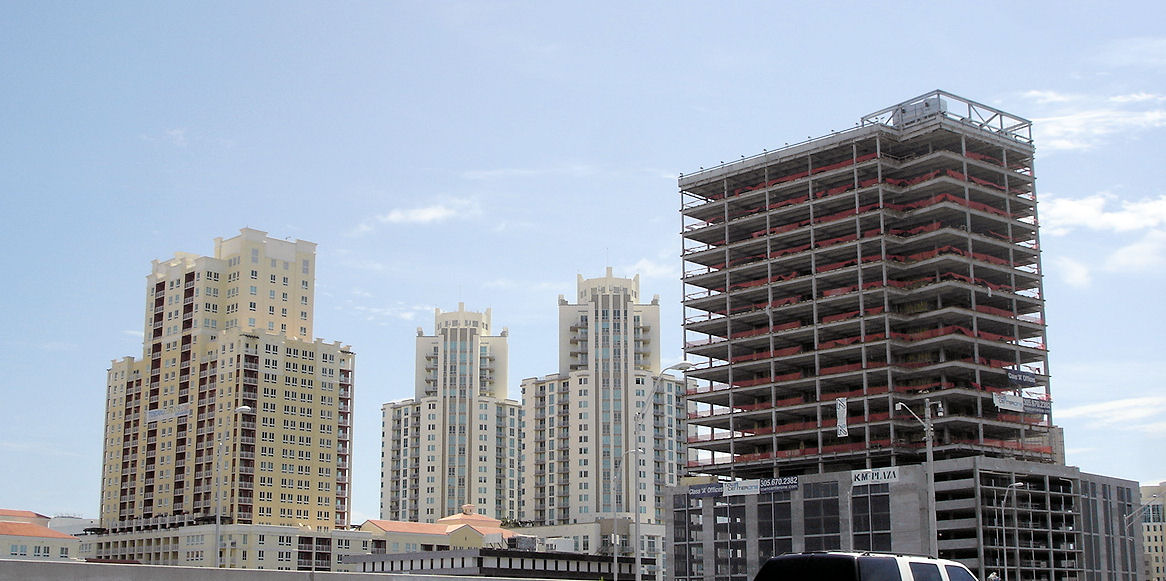 The photo above is Toscano, Metropolis and the new Town Center Dadeland One office tower being constructed adjacent to the Palmetto Expressway. The photo is taken from the Palmetto (State Road 826), looking southeast. The Downtown Dadeland complex is not shown in this photo.
&nbsp
Bay Point Progressive Open House, Saturday Oct 22nd 1PM-4PM
10/23/2016 8:56 PM
This Saturday, October 22nd from 1PM-4PM, we will be holding our listing at 4225 Lake Road in Bay Point open to the public. This unique home is located in one of Miami's most prime locations, Bay Point. Bay Point is without a doubt one of Miami's most desirable neighborhood, and it is positioned to only […...Read More
&nbsp
Autonomous Vehicles Will Change The Urban Landscape
10/21/2016 8:19 PM
Last week I attended the Realtors Commercial Alliance meeting Commercial Disrupters, Game Changers, and Market Makers and was fascinated by a presentation by John Dohm  on autonomous vehicles.  These cars are not in the far off future, they are already here and the big players including Google, Tesla, Apple, Audi and most of the...Read More
&nbsp
Fantastic Mid Beach Home
10/21/2016 1:08 PM
4411 NAUTILUS DRIVE MIAMI BEACH A fantastic Mid Beach  home with the perfect blend of architectural detail & contemporary comfort. Located on Nautilus Drive the home is located in the heart of the ideal mid beach location in Miami Beach. The interior contains original terrazzo & hardwood floors, fireplace, volume ceilings & natural...Read More
&nbsp
Is Chivalry Dead?
10/17/2016 12:05 PM
I recently showed a house that is fenced and gated. The gate has no motor, so to access the driveway, I have to manually push the gate open: it is heavy, so this takes some effort! Anyhow, the buyer and his realtor, both men, were early and when I got there they simply sat in […...Read More
&nbsp
The Stunning World of Alfred Browning Parker
10/17/2016 11:51 AM
I have always loved the homes designed by Modernist architect Alfred Browning Parker, so I am very excited to see HistoryMiami Museum's new exhibit "The Discipline of Nature: Architect Alfred Browning Parker in Florida." I have been in – and sold – several of his designs, I have never actually seen his sketches or models, […...Read More
&nbsp
Beautiful Home For Sale In North Miami Beach
10/17/2016 11:10 AM
Spacious Four Bedroom 2 1/2 Bath 1-Story Pool Home! This Home Features Beautiful Custom Woodwork Throughout. Oversized Living Room With Vaulted Ceilings. Large Den With A Built In Bar. Huge Eat-In Kitchen With A Gas Stove And Water Heater. Separate Laundry Room & Newer A/C. Circular Driveway With Ample Parking, Fenced Yard Home Is Located [R...Read More
&nbsp
OPEN HOUSE, Sunday 10/16/16, 11am-1pm, 2201 SW 22 TE, Miami, FL 33145
10/14/2016 10:44 AM
LOCATION, LOCATION, LOCATION. Great Opportunity to own 3 Bedroom / 2 Bathroom + 1 Car Garage 1964 Corner Home in the Heart of Silver Bluff. House is located in the corner of SW 22 Avenue and 22nd Terrace. Remodeled Kitchen w/Granite Counter tops, Walk in Closet in every bedroom. Great Curb Appeal. Close to Coconut […...Read More
&nbsp
OPEN HOUSE, Sunday 10/16/16, 1-3pm, 2161 SW 22 TE, Miami, FL 33145
10/14/2016 10:42 AM
Impeccable Updated Home in Desirable Silver Bluff. 3 Bd / 2.5 Bth + Office + 1 Car Garage. Front Porch, Foyer, Formal Living, Formal Dining, Large Open Concept Designer Kitchen with Granite/Slate & SS Appliances, Large Family Room, Hardwood Floors, Fireplace, Travertine in Master Bth w Dual Sinks, Hurricane Impact Windows, Tons of Storage, Prof...Read More
&nbsp
OPEN HOUSE, Saturday 10/15/16, 1-3pm, 2907 Bird Avenue, Coconut Grove, FL 33133
10/14/2016 10:41 AM
Delightful three-story townhouse in wonderful Coconut Grove location. In a small (just 12 townhouses), quiet, gated complex, townhouse has a private, fenced rear patio, two bedrooms on second floor and master on third floor, balconies front and rear. Unique and charming. Will need some updating. One parking spot under building, others in lot. Well-...Read More
&nbsp
OPEN HOUSE 6901 Gratian St. Coral Gables Sunday, October 16, 2016 From 1:00 – 3:00 PM
10/13/2016 5:05 PM
Perfect location, bright family home near Sunset Elem. Featuring updated kitchen, wood floors and crown molding. Newer roof, AC and hurricane shutters. Extra closets and storage throughout. French doors filter beautiful light into the Master, second bedroom and Florida room. Fence surrounding paved patio ideal for entertaining, includes single car ...Read More
---
There was a problem returning the RSS feed.