George Merrick Entry Arches - City of Coral Gables - History
George E. Merrick (1886-1942) was a real estate developer who is best known as the planner and builder of the City of Coral Gables, Florida. It is one of the first planned communities in the United States. In 1921 the fist residential lots were sold in Coral Gables. Merrick offered free coral rock for building materials and many homes contained coral rock exterior walls. The historic Coral Gables entry arches, which also used the native coral, are designed in the Mediterranean theme of the architect Denman Fink's style and consistent with George Merrick's master plan for the City of Coral Gables. The important architects of that time were:
Walter de Garmo
Richard Kiehnel
Below is a map of the northern portion of the City of Coral Gables showing four historic arches and the new arch being constructed at the Old Spanish Village development east of Ponce de Leon Boulevard.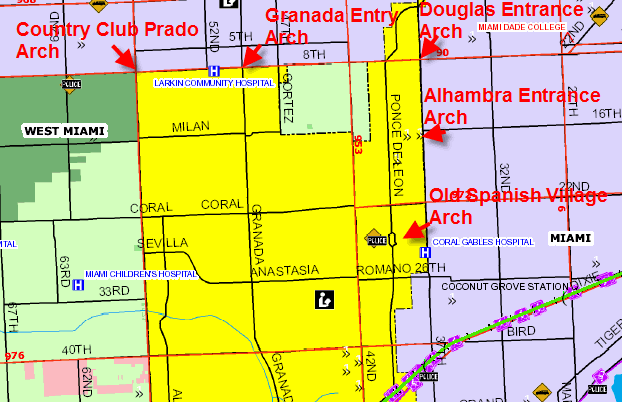 Granada Entry Arch, Coral Gables - Located at Granda Boulevard & S.W. 8th Street (Tamiami Trail).This arch is located on the south side of Tamiami Trial (also known as Calle Ocho or Eighth Street). Coral rock (limestone) from a local quary, later known as Venetian Pool, was likely used in its construction. The arch spans Granada Boulevard, which is a historic roadway in the City of Coral Gables. This north-south roadway travels through the heart of Coral Gables and along two public golf courses, the Granada and golf courses, both designed by Donald J. Ross. A painting titled Entry Arch to the City of Coral Gables shows the clay tile roof and flat arch of the Granada entry arch. The structure arch allows vehicles to pass underneath it entering and leaving the city.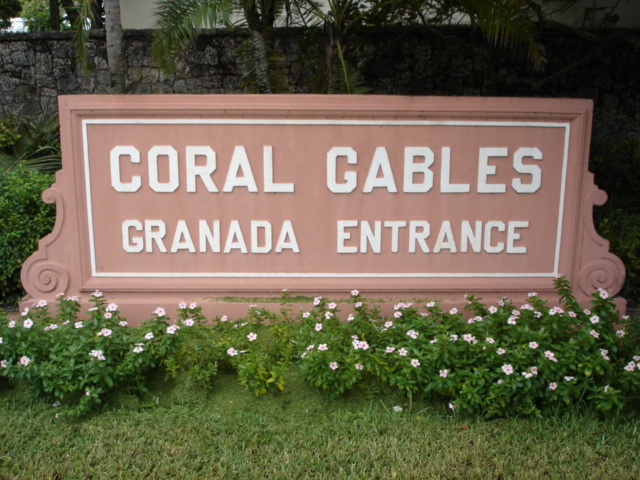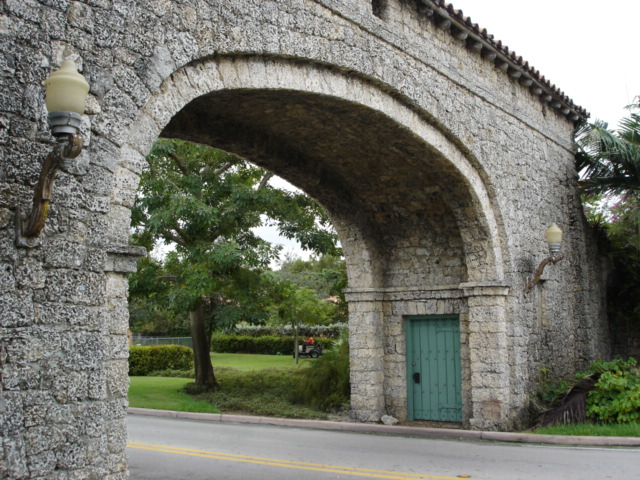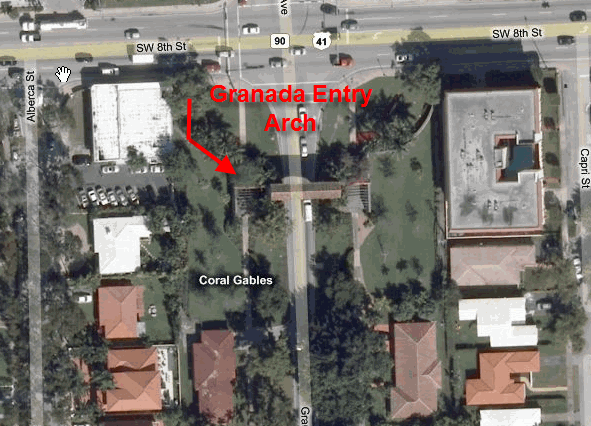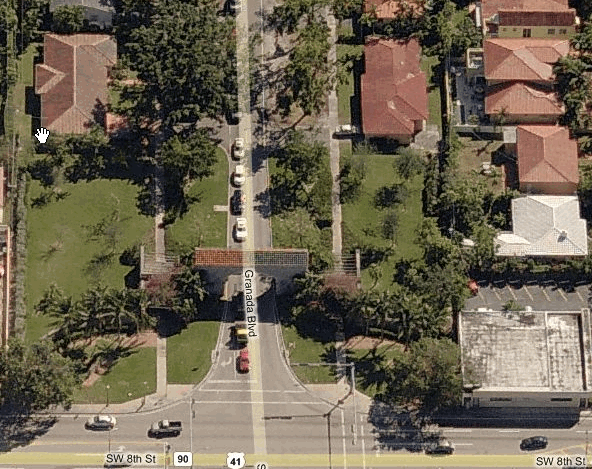 Country Club Prado Arch, Coral Gables -Located at the NW corner of the City of Coral Gables at S.W. 8th Street (Tamiami Trail) and S.W. 57th Avenue (Red Road). For years the Country Club Prado Arch has been a setting for photography. One often sees professional photographers at this site, and it is a favorite for wedding photos. There are two walkways covered by wood trellises providing interesting detail to the arches. Also, the structure is located on a center parkway running north and south which is similar to a piazza. Custom homes are located on both the east and west sides of the linear parkway.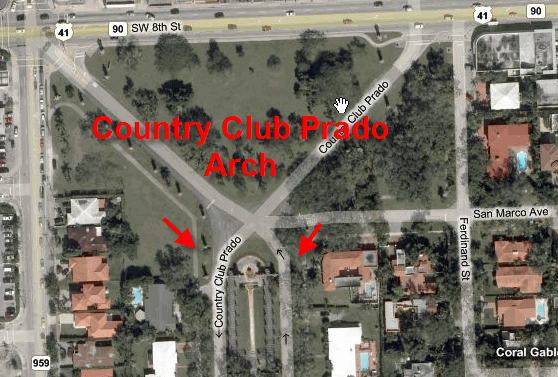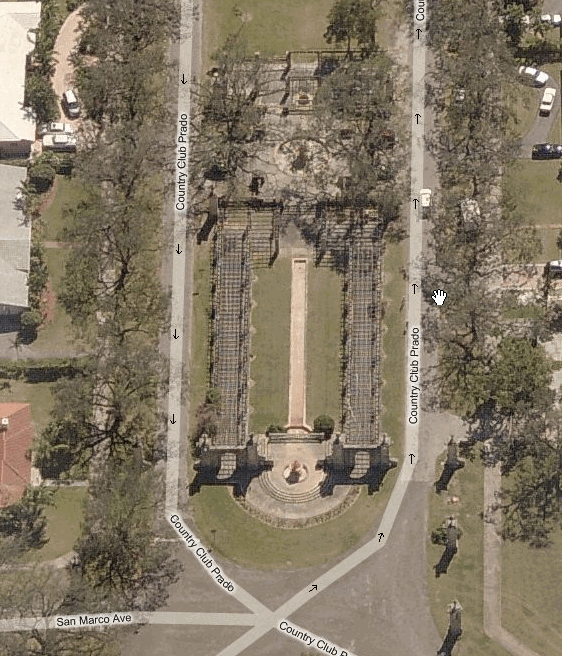 Alhambra Entrance Arch, Coral Gables - Located at S.W. 37 Avenue (Douglas Road), Majorca Avenue and Alhambra Circle.
The Alhambra entry arch is also known as the commercial entry to Coral Gables, as Alhambra Circle leads to the central business district of the City of Coral Gables and Miracle Mile. Miracle Mile is a well-known shopping district that has been revitalized over the past five years. At the west end of Miracle Mile is the Coral Gables City Hall located at 405 Biltmore Way. Designed in the "Mediterranean Revival" style, the architects were Denmond Fink and Phineas Paist. It is a major feature of Coral Gables' master plan and has an unobstructed views from both Le Jeune Road and Miracle Mile.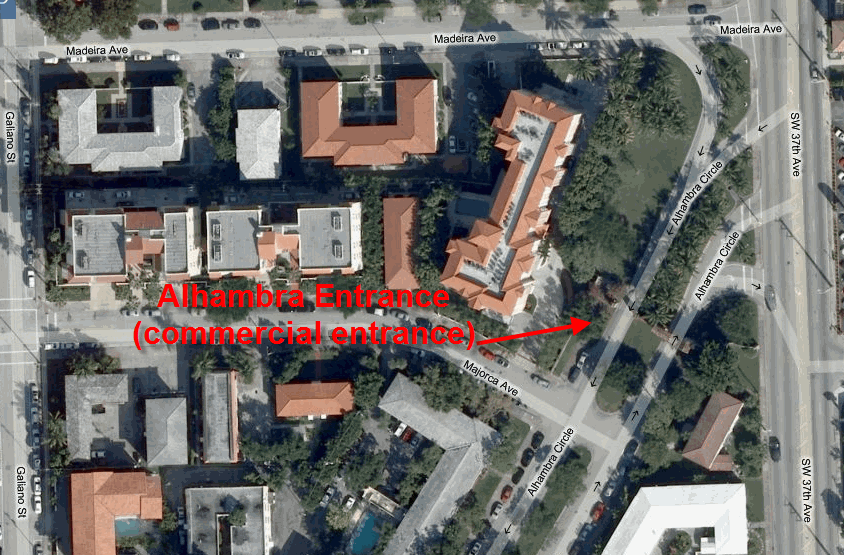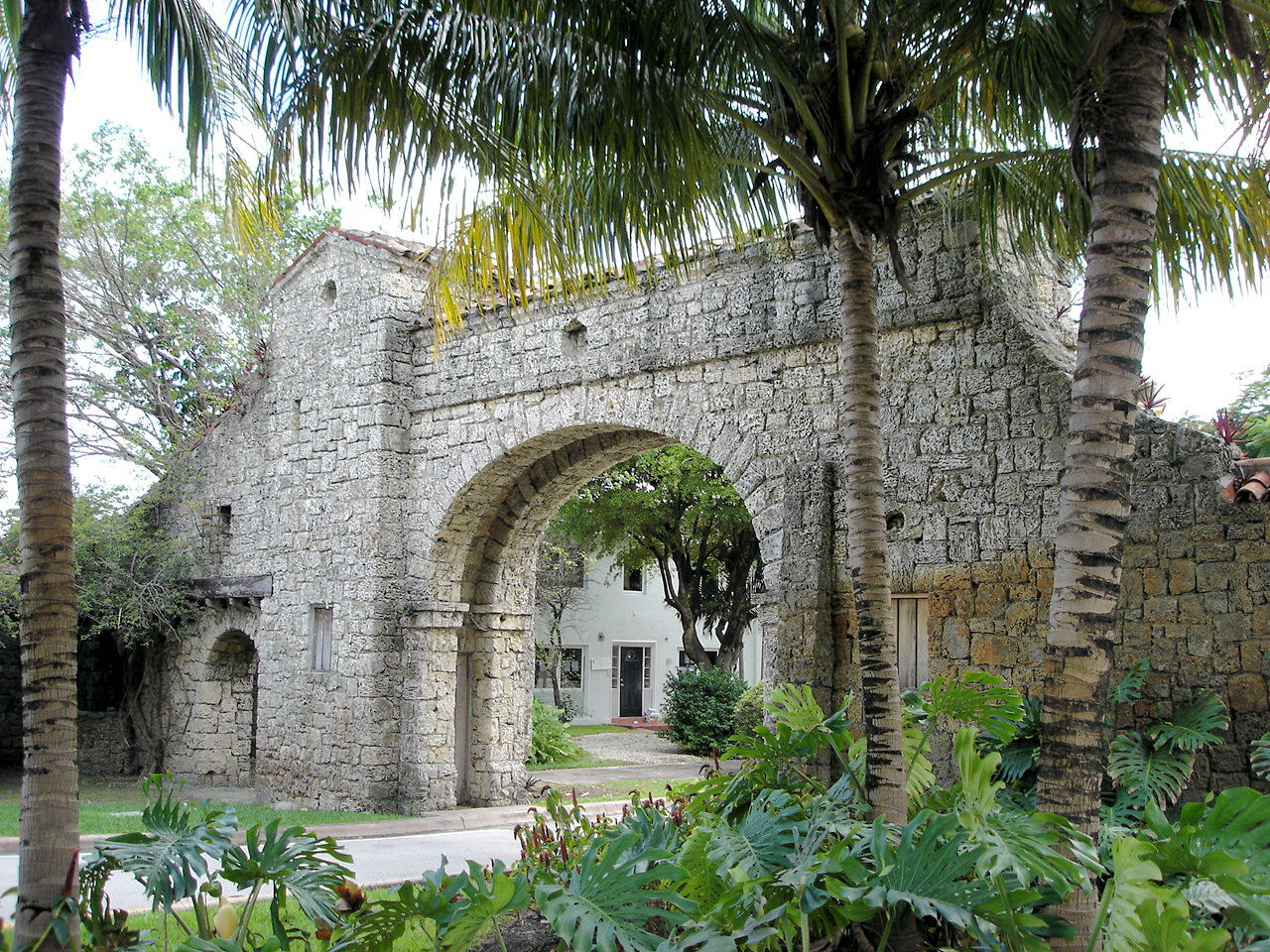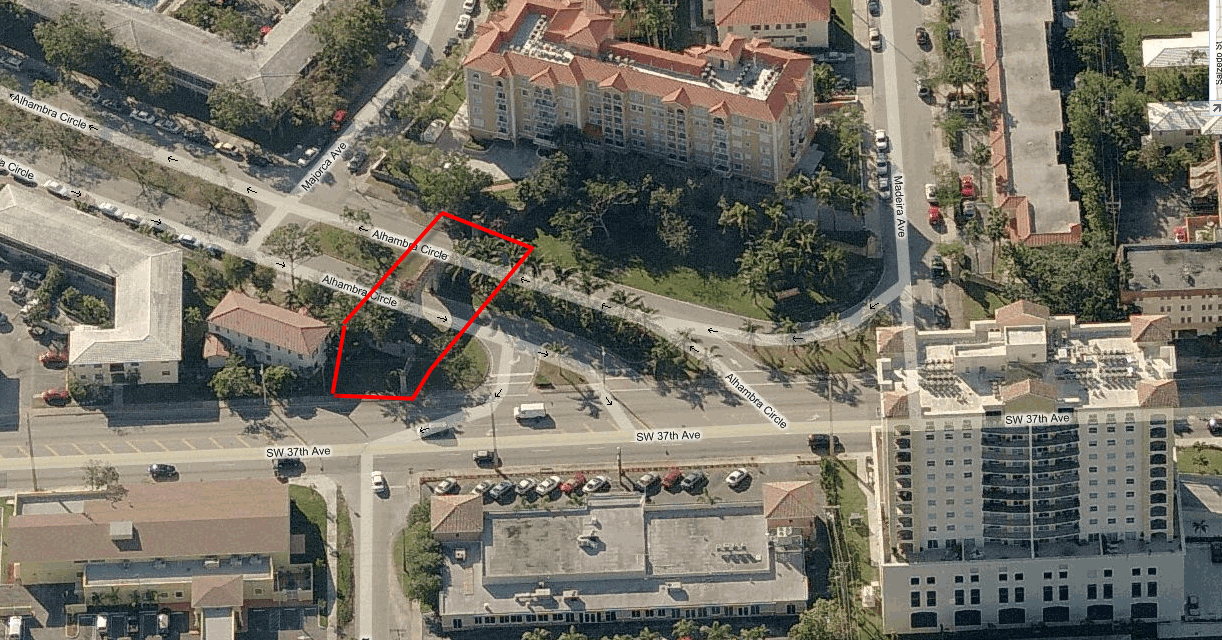 Douglas Entrance - Located at the SW corner of S.W. 8th Street (Tamiami Trail) and S.W. 37th Avenue (Douglas Road).
The Douglas Entrance was a collaboration between architects: Walter de Garmo, Denman Fink, and Phineas E. Paist. This is considered the main entrance to the City of Coral Gables. The architectural offices of Splliis Candella are located in a portion of the Douglas Entrance complex. The photo below is looking south and the building is angled 45 degrees along east Ponce de Leon Boulevard. The arch is so large that one can walk inside of it and over the roadway. A portion of its interior is the architecture office.
Old Spanish Village Arch, Coral Gables - Located along Coconut Grove Drive and forming part of the perimeter of the Old Spanish Village development. The arch is located at the bottom left of this close up photo of the model. A small rotunda is located to the east of the arch. This new development is located in the city's historic Arts and Crafts Section. The historic Arts Center and Architectural Headquarters of George Merrick's Coral Gables is part of the overall site plan, and the building was recently restored and houses an exhibit of the Coral Gables Museum. The location is within walking distance of Miracle Mile and the central business district to the north.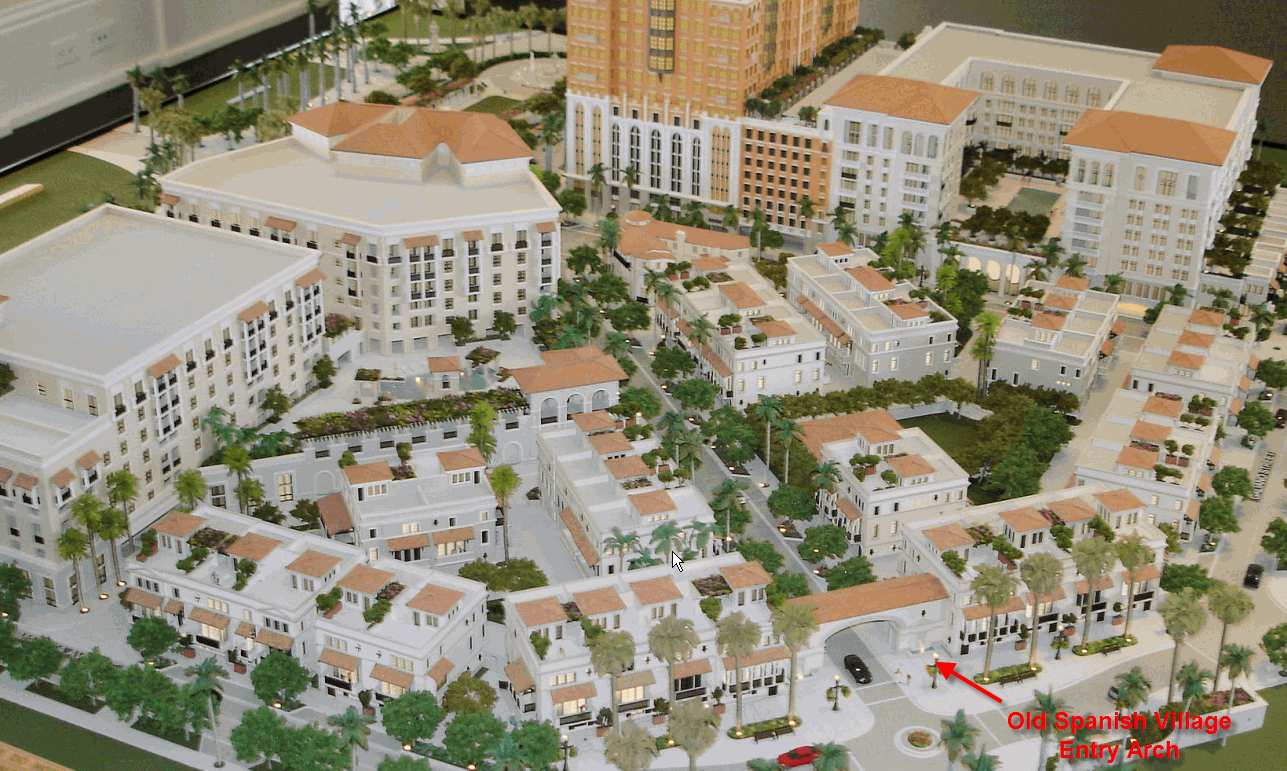 Links:
Miami Senior High School - 1930

Kiehnel and Elliott, architects
&nbsp
How these students handle their taboo problems of cutting, suicide, depression and bullying
3/24/2017 2:20 AM
Kattie Ulloa endured a storm within herself until she got to high school and found empathy from the very peers she feared would reject her. "I had trouble figuring out who I was," said Ulloa, a Hialeah High junior who abused marijuana, Adderall and alcohol, cut herself, and contemplated ...Read More
&nbsp
Miami may target Airbnb hosts who spoke at City Hall, sue home-sharing platform
3/23/2017 10:19 PM
Dozens of Miami property owners who rent their homes and duplexes to visitors through home-sharing platform Airbnb spent all day at City Hall on Thursday pleading with city officials to buck a legal opinion declaring their business an illegal nuisance . Instead, Miami commissioners reaffirmed that position in a 3-2 vote, threatened to sue Airbnb...Read More
&nbsp
Man Dangles From Key Biscayne Building After Scaffold Collapse
3/23/2017 8:12 PM
CBS4 CBS4 is now on CBSMiami.com. It"s the same great news, weather, and investigations you found on cbs4.com, but we"ve added a whole new range of great items and features to help you get more out of your day, and put a little more fun into your life.Read More
&nbsp
Ita s home again for a family that just cana t give up on Miami
3/23/2017 3:47 PM
NohemA AlarcA3n attends a protest her daughter Liz Rebecca organized with fellow University of Miami student activists in 2009 to oppose President Hugo Chavez"s proposed constitutional amendment that would abolish term li...Read More
&nbsp
Synagogue bomb plot suspect James Medina found competent for August trial
3/23/2017 11:17 AM
The Broward County man accused of plotting to bomb a synagogue in Aventura last April now has a trial date and a deadline to decide if he wants to plead guilty. James Gonzalo Medina, 41, has until May 26 to decide if...Read More
&nbsp
Rick Ross Already Planning Next Album And Reveals Title [News]
3/23/2017 6:49 AM
It hasn"t even been a week since Rick Ross released his ninth studio album Rather You Than Me, and already the rap mogul has shared plans to release his next album. Speaking with a Miami radio station Tuesday morning , Ross shared the title of his next project.Read More
&nbsp
Weekend Watch: Ultra Music Festival, Augusto Soledade Brazzdance,...
3/23/2017 2:26 AM
Augusto Soledade Brazzdance will premiere "Think Blue" at the Arsht Center. Using contemporary dance, ASBD will perform brand-new choreography for its performance of "Think Blue."Read More
&nbsp
Ritz debuts new Lightkeepers restaurant, guest room reimagining
3/22/2017 10:16 PM
People visit the local Ritz-Carlton from all over the globe - or from right in Key Biscayne - for many reasons, but chief among them is the beautiful beachfront setting. With that in mind, Ritz-Carlton, Key Biscayne Miami officials are paying homage to their idyllic location th...Read More
&nbsp
Explaining the fight between Airbnb and Miami-Dade municipalities
3/22/2017 5:50 PM
Miami-Dade County is one of the top five Airbnb destinations in the country, with 6,800 hosts renting their homes. But for the past year, Miami Beach has been fining locals who rent on platforms like Airbnb $20,000 for each violation.Read More
&nbsp
Condo confidential: Mexican politician didna t disclose $990K Miami purchase
3/22/2017 5:50 PM
Alejandra Barrales, the leader of a major Mexican opposition party, paid $990,000 for a condo in Sunny Isles Beach last year, Miami-Dade County property records show - but she doesn"t appear to have disclosed the expensive purchase to Mexican voters. The luxury, two-bedroom condo is located in a twin-tower development called 400 Sunny Isles that...Read More
---