George Merrick Entry Arches - City of Coral Gables - History
George E. Merrick (1886-1942) was a real estate developer who is best known as the planner and builder of the City of Coral Gables, Florida. It is one of the first planned communities in the United States. In 1921 the fist residential lots were sold in Coral Gables. Merrick offered free coral rock for building materials and many homes contained coral rock exterior walls. The historic Coral Gables entry arches, which also used the native coral, are designed in the Mediterranean theme of the architect Denman Fink's style and consistent with George Merrick's master plan for the City of Coral Gables. The important architects of that time were:
Walter de Garmo
Richard Kiehnel
Below is a map of the northern portion of the City of Coral Gables showing four historic arches and the new arch being constructed at the Old Spanish Village development east of Ponce de Leon Boulevard.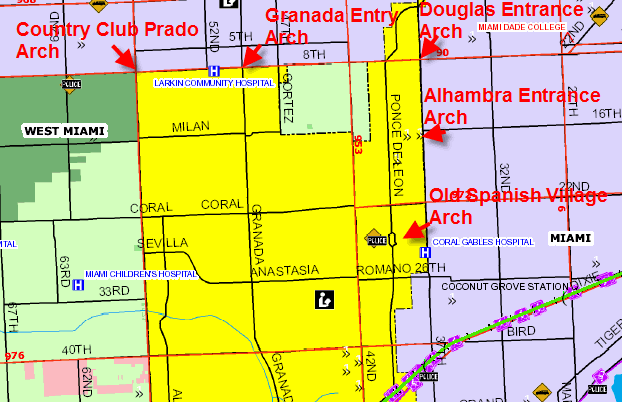 Granada Entry Arch, Coral Gables - Located at Granda Boulevard & S.W. 8th Street (Tamiami Trail).This arch is located on the south side of Tamiami Trial (also known as Calle Ocho or Eighth Street). Coral rock (limestone) from a local quary, later known as Venetian Pool, was likely used in its construction. The arch spans Granada Boulevard, which is a historic roadway in the City of Coral Gables. This north-south roadway travels through the heart of Coral Gables and along two public golf courses, the Granada and golf courses, both designed by Donald J. Ross. A painting titled Entry Arch to the City of Coral Gables shows the clay tile roof and flat arch of the Granada entry arch. The structure arch allows vehicles to pass underneath it entering and leaving the city.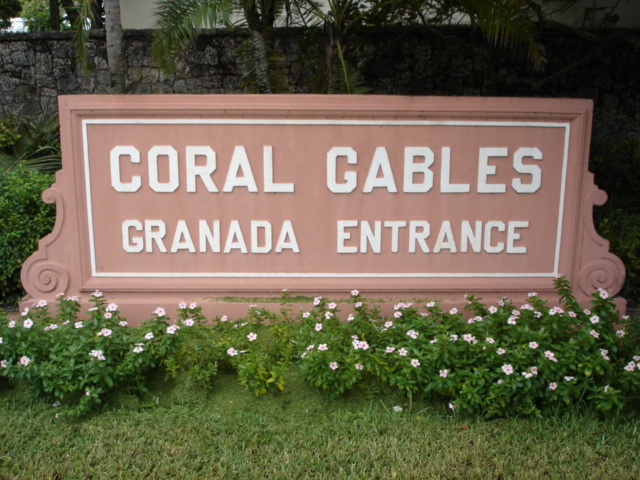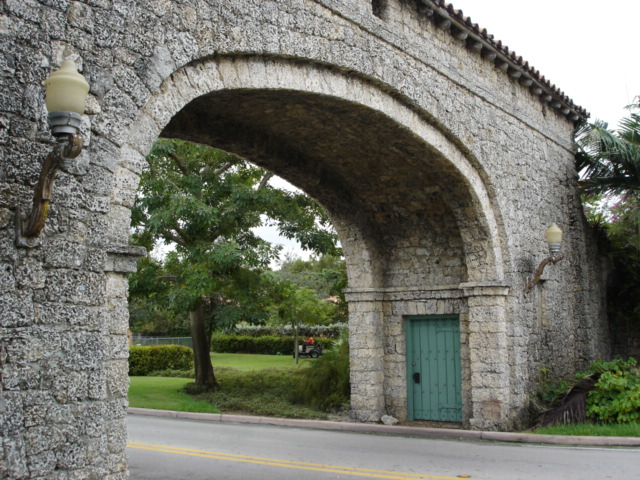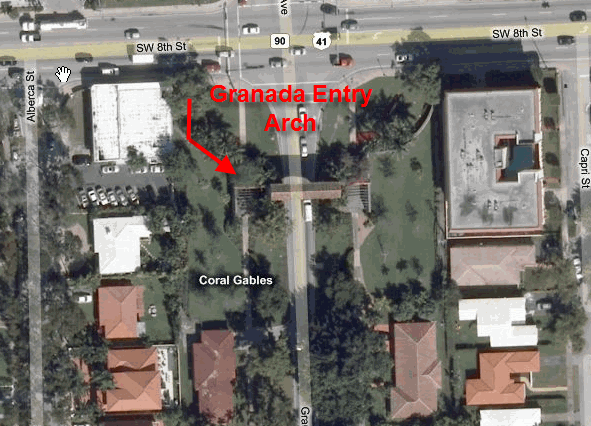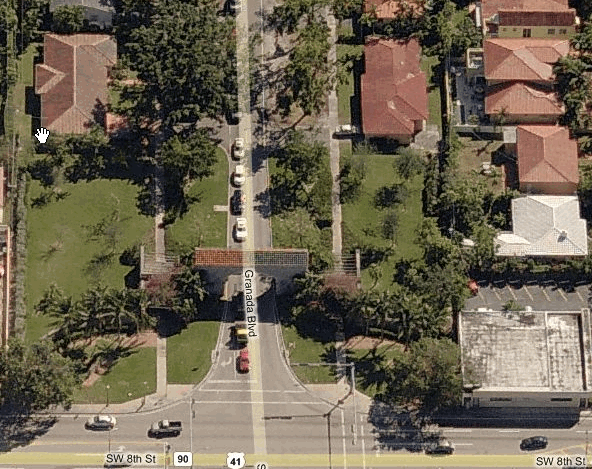 Country Club Prado Arch, Coral Gables -Located at the NW corner of the City of Coral Gables at S.W. 8th Street (Tamiami Trail) and S.W. 57th Avenue (Red Road). For years the Country Club Prado Arch has been a setting for photography. One often sees professional photographers at this site, and it is a favorite for wedding photos. There are two walkways covered by wood trellises providing interesting detail to the arches. Also, the structure is located on a center parkway running north and south which is similar to a piazza. Custom homes are located on both the east and west sides of the linear parkway.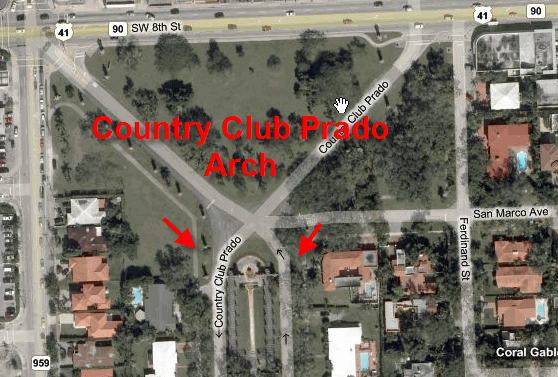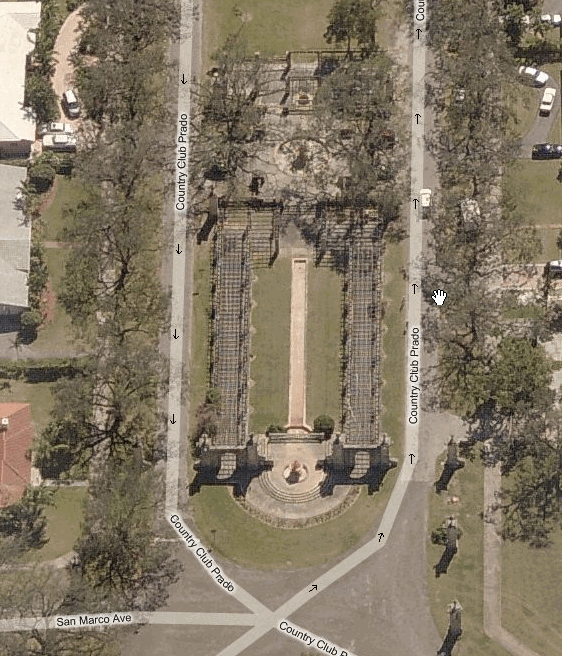 Alhambra Entrance Arch, Coral Gables - Located at S.W. 37 Avenue (Douglas Road), Majorca Avenue and Alhambra Circle.
The Alhambra entry arch is also known as the commercial entry to Coral Gables, as Alhambra Circle leads to the central business district of the City of Coral Gables and Miracle Mile. Miracle Mile is a well-known shopping district that has been revitalized over the past five years. At the west end of Miracle Mile is the Coral Gables City Hall located at 405 Biltmore Way. Designed in the "Mediterranean Revival" style, the architects were Denmond Fink and Phineas Paist. It is a major feature of Coral Gables' master plan and has an unobstructed views from both Le Jeune Road and Miracle Mile.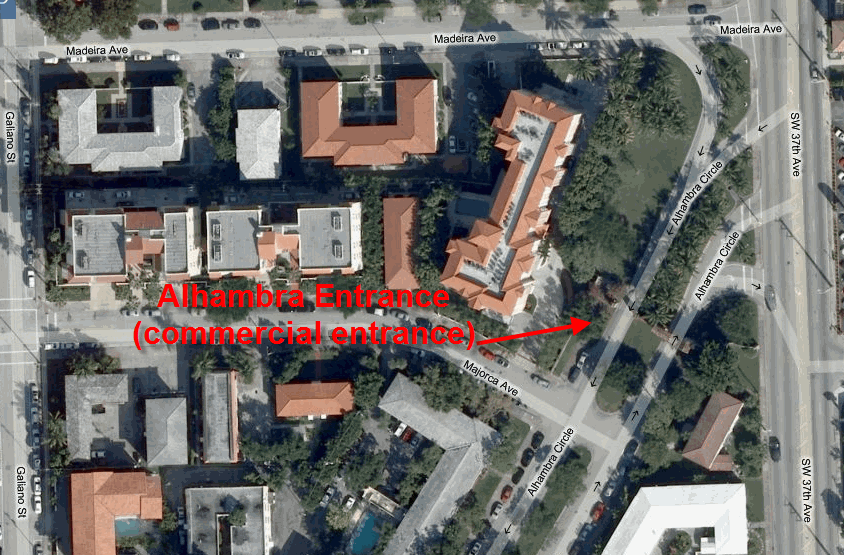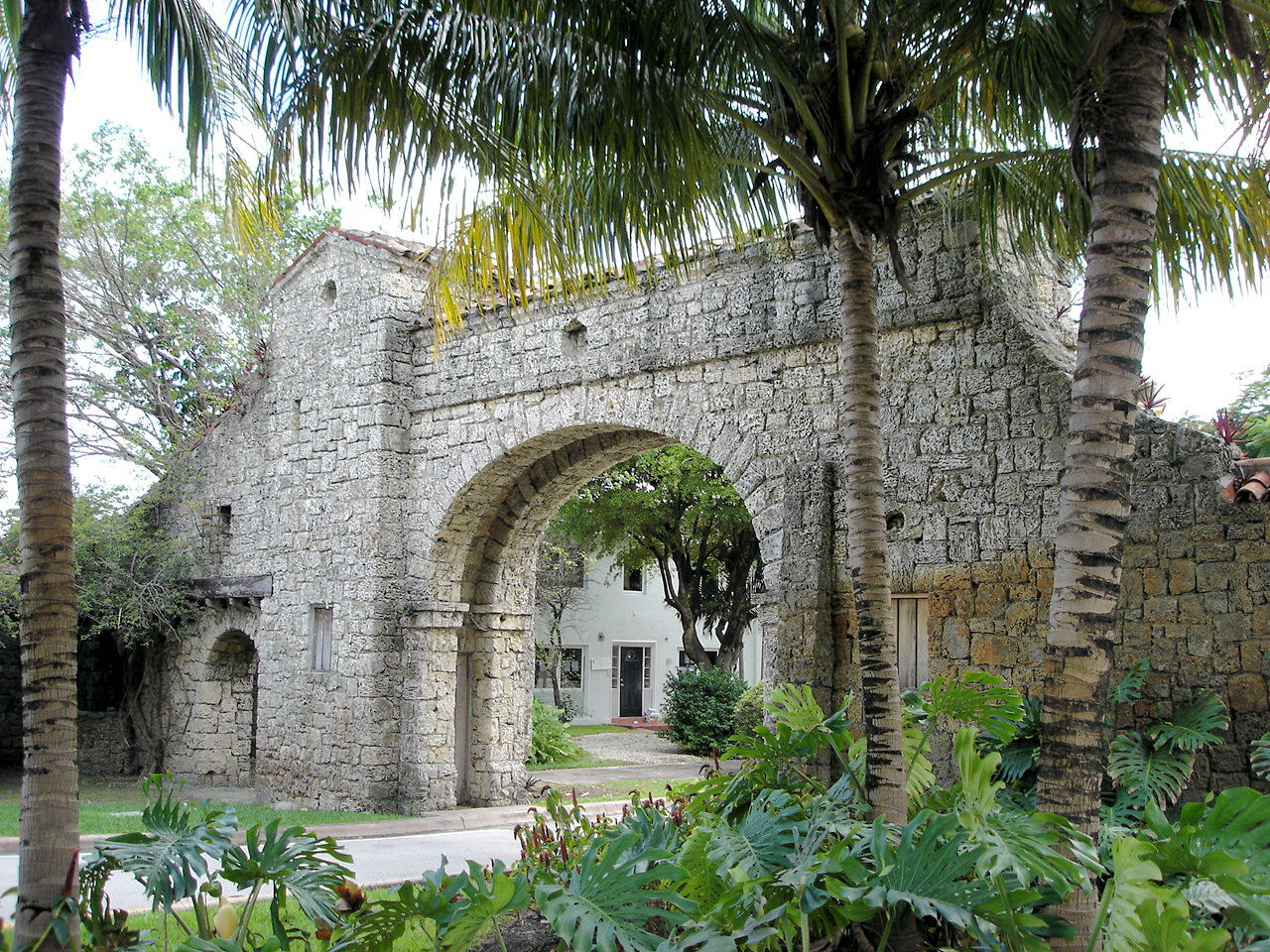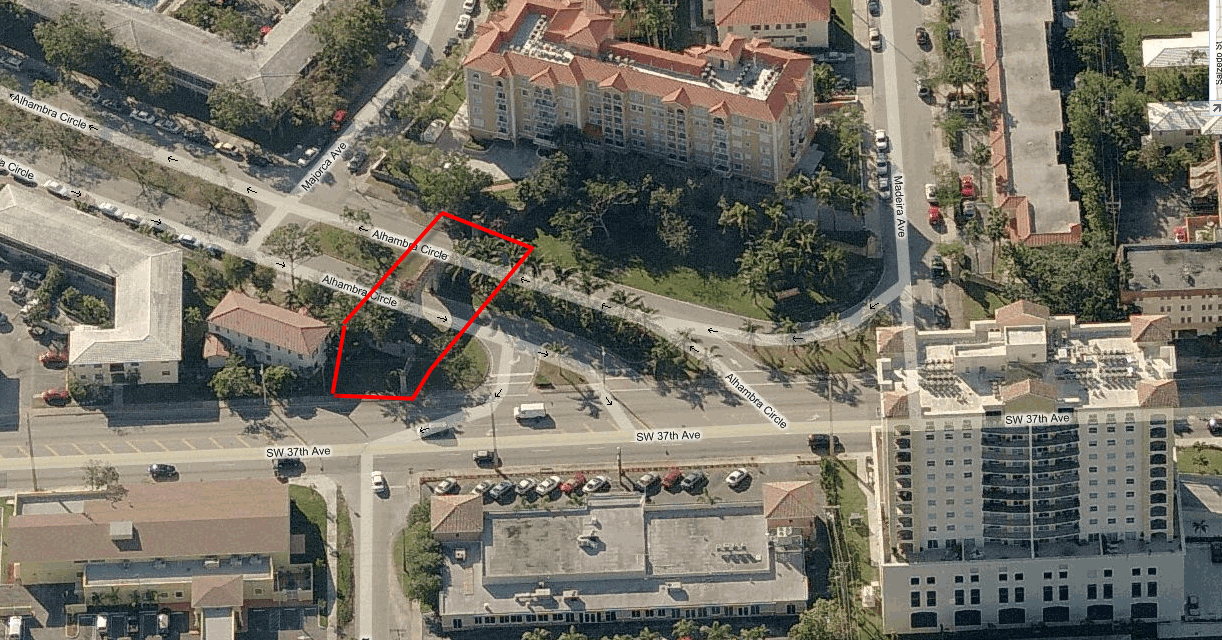 Douglas Entrance - Located at the SW corner of S.W. 8th Street (Tamiami Trail) and S.W. 37th Avenue (Douglas Road).
The Douglas Entrance was a collaboration between architects: Walter de Garmo, Denman Fink, and Phineas E. Paist. This is considered the main entrance to the City of Coral Gables. The architectural offices of Splliis Candella are located in a portion of the Douglas Entrance complex. The photo below is looking south and the building is angled 45 degrees along east Ponce de Leon Boulevard. The arch is so large that one can walk inside of it and over the roadway. A portion of its interior is the architecture office.
Old Spanish Village Arch, Coral Gables - Located along Coconut Grove Drive and forming part of the perimeter of the Old Spanish Village development. The arch is located at the bottom left of this close up photo of the model. A small rotunda is located to the east of the arch. This new development is located in the city's historic Arts and Crafts Section. The historic Arts Center and Architectural Headquarters of George Merrick's Coral Gables is part of the overall site plan, and the building was recently restored and houses an exhibit of the Coral Gables Museum. The location is within walking distance of Miracle Mile and the central business district to the north.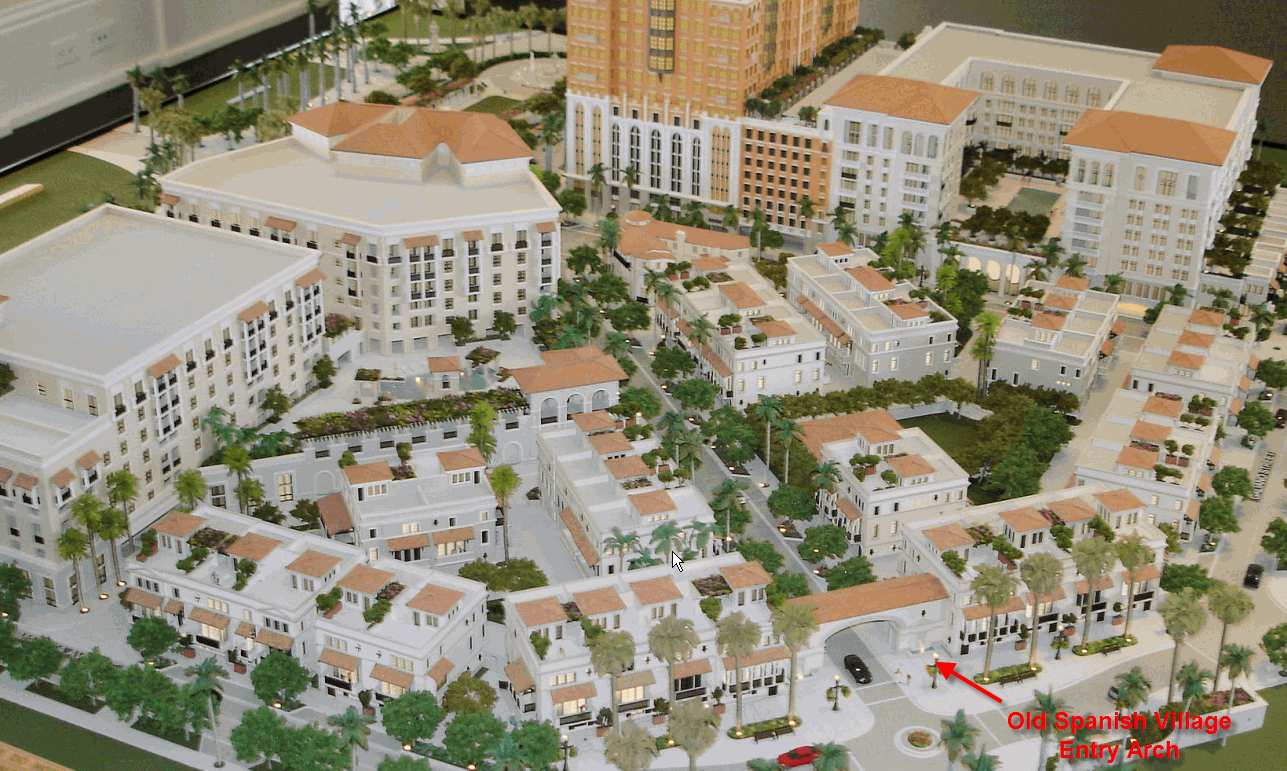 Links:
Miami Senior High School - 1930

Kiehnel and Elliott, architects
&nbsp
Police respond to a reported shooting at Florida high school
4/21/2018 2:07 AM
Police said that they responded to a shooting on April 20, 2018 at Forest High School in Marion County, Florida. A suspect was reported to be in custody and one person was reported to have been injured.Read More
&nbsp
Miami"s multicultural Jewish community returns to its roots in mission trip to Israel
4/20/2018 9:37 PM
Magda Bader, center, an 88-year-old Auschwitz survivor from Miami, stands beside Gil and Elise Scheck Bonwitt at "Yad Vashem," the world"s largest Holocaust Museum, in Jerusalem. The group is part of the 820 South Floridians who are in Israel now as part of a mission trip with the Grea...Read More
&nbsp
The Best Things to Do in Miami This Weekend
4/20/2018 4:59 PM
If you were planning to stay in for Netflix this weekend, you might want to hold off until next week. With Record Store Day back yet again, there is no shortage of music or festivals in town over the next couple of days.Read More
&nbsp
Rising Waters Recalculate Miami Housing Values
4/20/2018 2:36 PM
Rising waters due to climate change are recalculating Miami housing values and many communities around it as homes closer to the sea, once seen as treasured property, are being discounted in favor of those on higher land, The Wall Street Journal reported Friday. Research posted in the journal Environmental Research Letters found that the values ...Read More
&nbsp
10 Most Romantic Places in Florida
4/20/2018 12:18 PM
For adventurous couples, a trek out to a remote island makes for an exciting, Robinson Crusoe-style getaway. Accessible only by boat or seaplane, the Dry Tortugas are a collection of seven islands managed by the National Park Service and located almost 70 miles west of Key West.Read More
&nbsp
Israel turns 70 and South Florida celebrates
4/20/2018 7:41 AM
More than 500 people gathered Thursday night in downtown Miami to celebrate the 70th Anniversary of Israel - a milestone for the Jewish state. The holiday, " Yom Ha"atzmaut " is tied to the Hebrew calendar and was celebrated at sundown Wednesday.Read More
&nbsp
Rubio and Scott: New federal tax law will help Miamia s low-income working families
4/20/2018 2:59 AM
The new tax law has two provisions that will particularly empower working families. The Child Tax Credit will give American families back more of their own money.Read More
&nbsp
Miami husband-and-wife legal duo to join Trump defense in Russia investigation
4/19/2018 10:29 PM
A husband-and-wife legal team from Miami is joining President Donald Trump"s personal legal team in the special counsel"s Russia investigation. Jane Serene Raskin and Marty Raskin, two former federal prosecutors and veteran defense lawyers who have a private practice in Coral Gables, are joining Trump"s team along with former New York City Mayor...Read More
&nbsp
A mom"s plea after her son is killed: "I want justice and to sleep peacefully."
4/19/2018 10:29 PM
Abigail Ocampo hasn"t gotten a good night of sleep since she was told that her 25-year-old son had been killed in a hit -and-run crash more than a year and a half ago. On Thursday, Miami police said they were "revisiting" the Sept.Read More
&nbsp
The Latest: Cuban-Americans in Miami expect little change
4/19/2018 6:03 PM
Outgoing President Raul Castro raises his arms in celebration after Miguel Diaz-Canel was elected as the island nation"s new president, at the National Assembly in Havana, Cuba, Thursday, April 19, 2018. Castro passed Read More
---