George Merrick Entry Arches - City of Coral Gables - History
George E. Merrick (1886-1942) was a real estate developer who is best known as the planner and builder of the City of Coral Gables, Florida. It is one of the first planned communities in the United States. In 1921 the fist residential lots were sold in Coral Gables. Merrick offered free coral rock for building materials and many homes contained coral rock exterior walls. The historic Coral Gables entry arches, which also used the native coral, are designed in the Mediterranean theme of the architect Denman Fink's style and consistent with George Merrick's master plan for the City of Coral Gables. The important architects of that time were:
Walter de Garmo
Richard Kiehnel
Below is a map of the northern portion of the City of Coral Gables showing four historic arches and the new arch being constructed at the Old Spanish Village development east of Ponce de Leon Boulevard.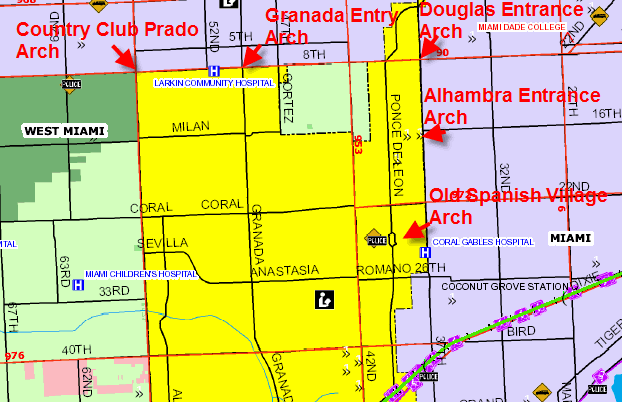 Granada Entry Arch, Coral Gables - Located at Granda Boulevard & S.W. 8th Street (Tamiami Trail).This arch is located on the south side of Tamiami Trial (also known as Calle Ocho or Eighth Street). Coral rock (limestone) from a local quary, later known as Venetian Pool, was likely used in its construction. The arch spans Granada Boulevard, which is a historic roadway in the City of Coral Gables. This north-south roadway travels through the heart of Coral Gables and along two public golf courses, the Granada and golf courses, both designed by Donald J. Ross. A painting titled Entry Arch to the City of Coral Gables shows the clay tile roof and flat arch of the Granada entry arch. The structure arch allows vehicles to pass underneath it entering and leaving the city.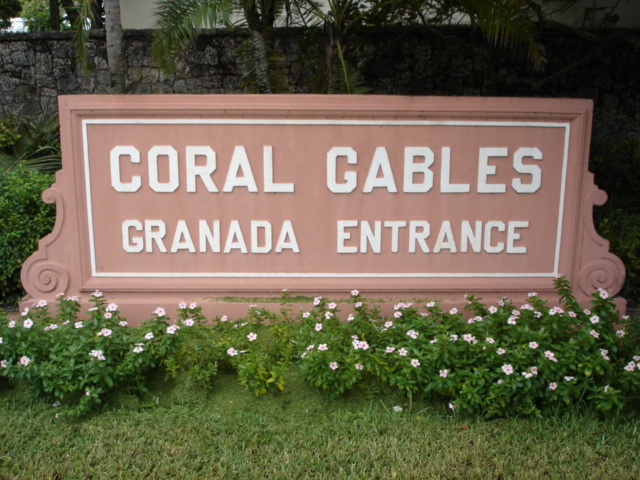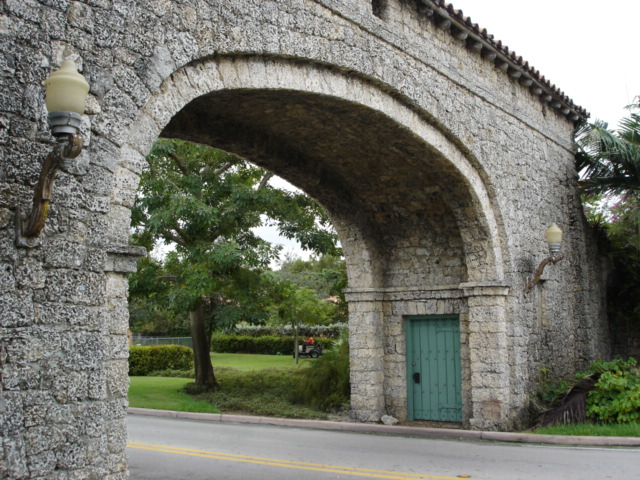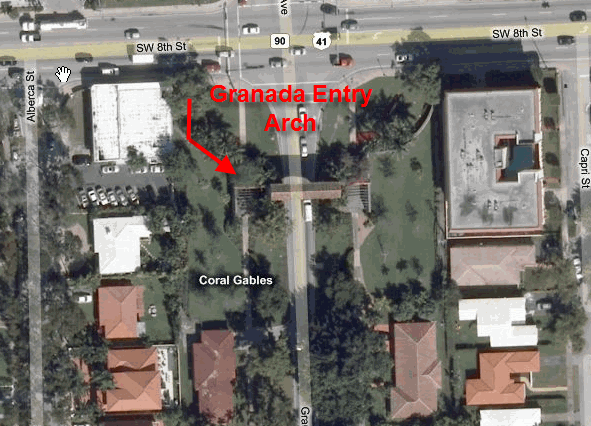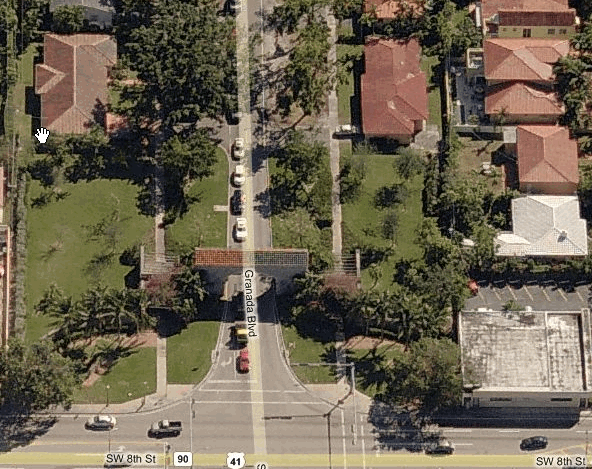 Country Club Prado Arch, Coral Gables -Located at the NW corner of the City of Coral Gables at S.W. 8th Street (Tamiami Trail) and S.W. 57th Avenue (Red Road). For years the Country Club Prado Arch has been a setting for photography. One often sees professional photographers at this site, and it is a favorite for wedding photos. There are two walkways covered by wood trellises providing interesting detail to the arches. Also, the structure is located on a center parkway running north and south which is similar to a piazza. Custom homes are located on both the east and west sides of the linear parkway.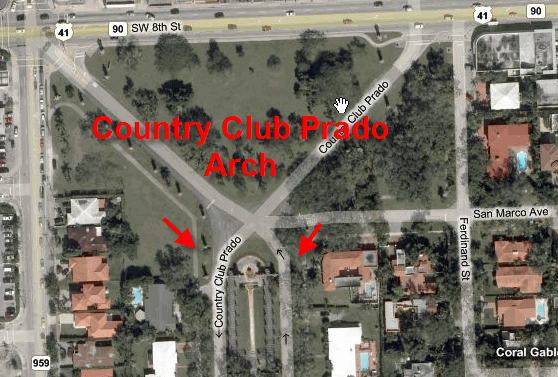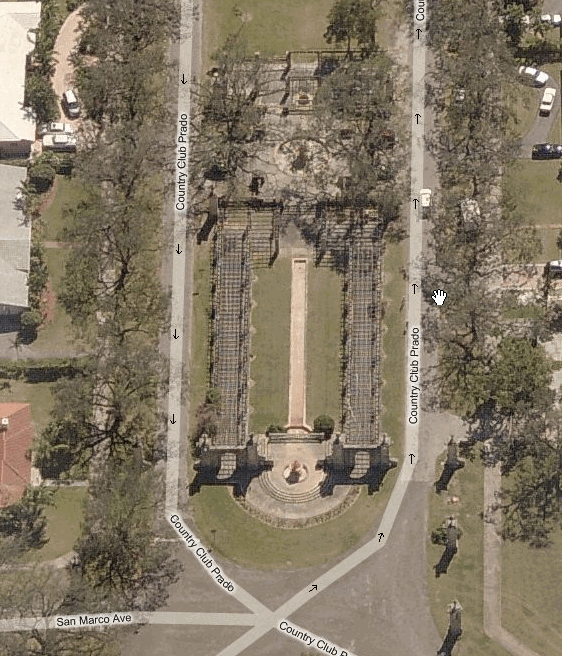 Alhambra Entrance Arch, Coral Gables - Located at S.W. 37 Avenue (Douglas Road), Majorca Avenue and Alhambra Circle.
The Alhambra entry arch is also known as the commercial entry to Coral Gables, as Alhambra Circle leads to the central business district of the City of Coral Gables and Miracle Mile. Miracle Mile is a well-known shopping district that has been revitalized over the past five years. At the west end of Miracle Mile is the Coral Gables City Hall located at 405 Biltmore Way. Designed in the "Mediterranean Revival" style, the architects were Denmond Fink and Phineas Paist. It is a major feature of Coral Gables' master plan and has an unobstructed views from both Le Jeune Road and Miracle Mile.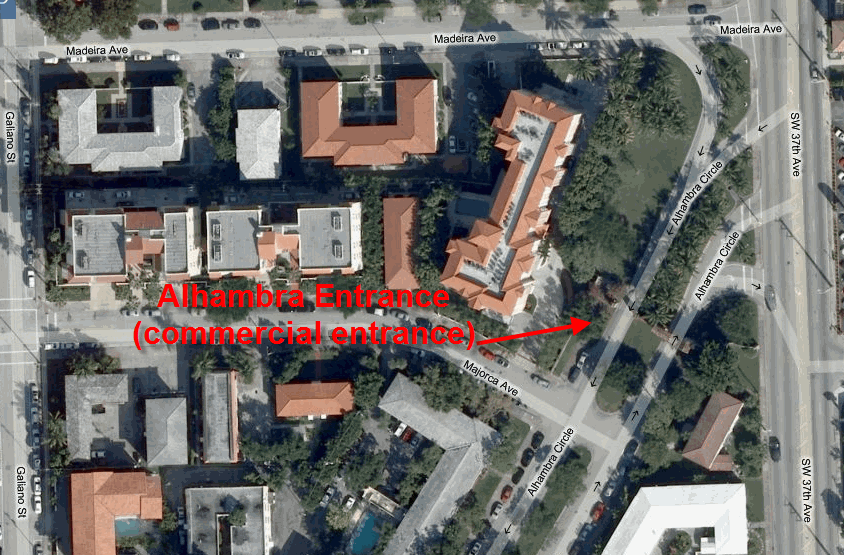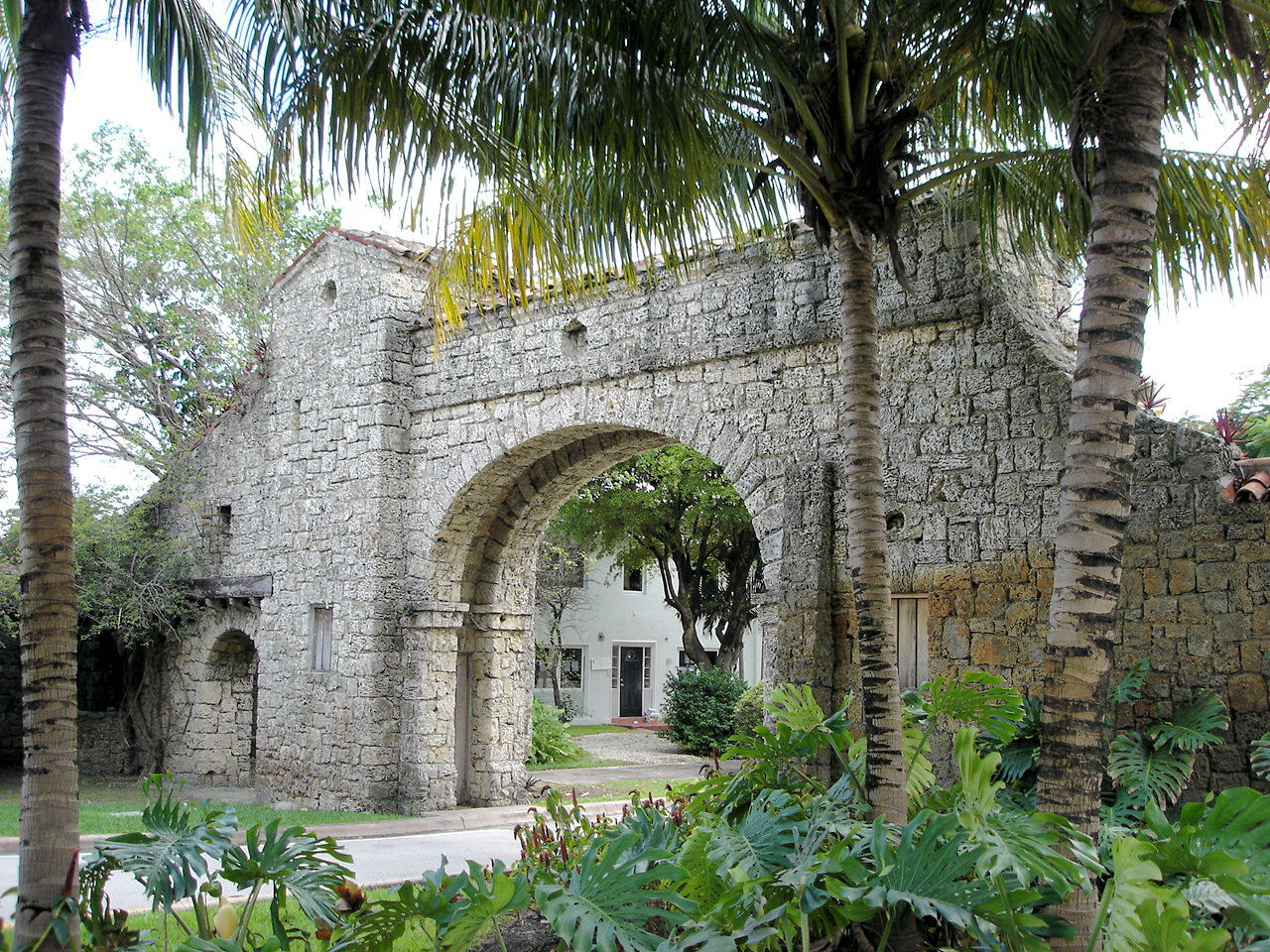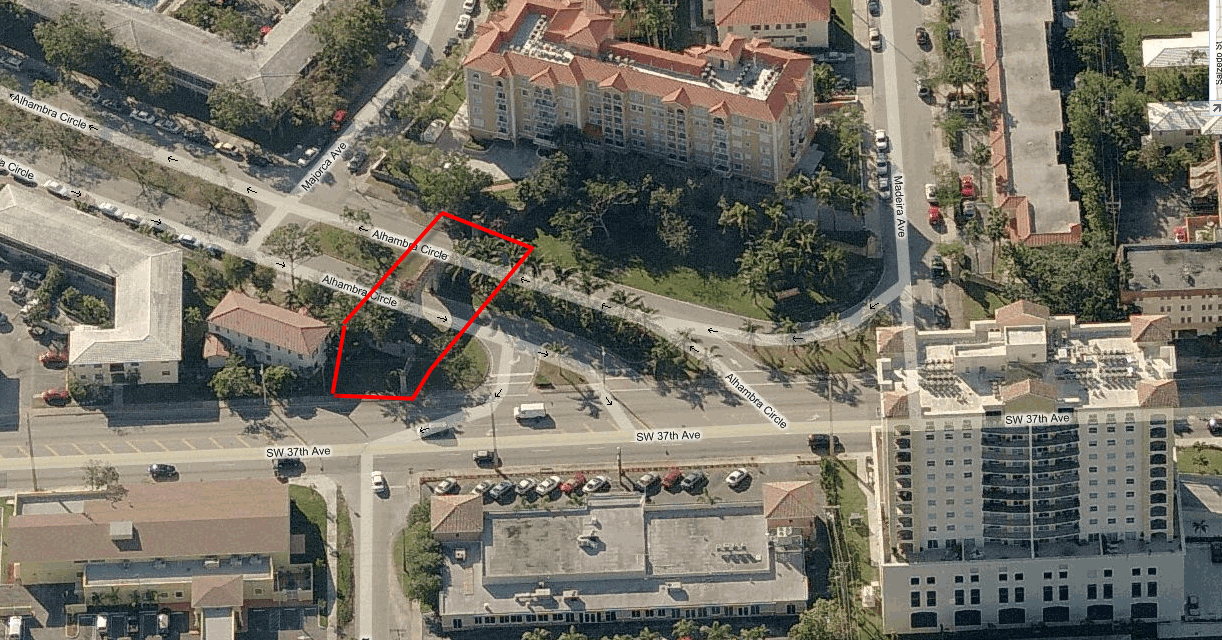 Douglas Entrance - Located at the SW corner of S.W. 8th Street (Tamiami Trail) and S.W. 37th Avenue (Douglas Road).
The Douglas Entrance was a collaboration between architects: Walter de Garmo, Denman Fink, and Phineas E. Paist. This is considered the main entrance to the City of Coral Gables. The architectural offices of Splliis Candella are located in a portion of the Douglas Entrance complex. The photo below is looking south and the building is angled 45 degrees along east Ponce de Leon Boulevard. The arch is so large that one can walk inside of it and over the roadway. A portion of its interior is the architecture office.
Old Spanish Village Arch, Coral Gables - Located along Coconut Grove Drive and forming part of the perimeter of the Old Spanish Village development. The arch is located at the bottom left of this close up photo of the model. A small rotunda is located to the east of the arch. This new development is located in the city's historic Arts and Crafts Section. The historic Arts Center and Architectural Headquarters of George Merrick's Coral Gables is part of the overall site plan, and the building was recently restored and houses an exhibit of the Coral Gables Museum. The location is within walking distance of Miracle Mile and the central business district to the north.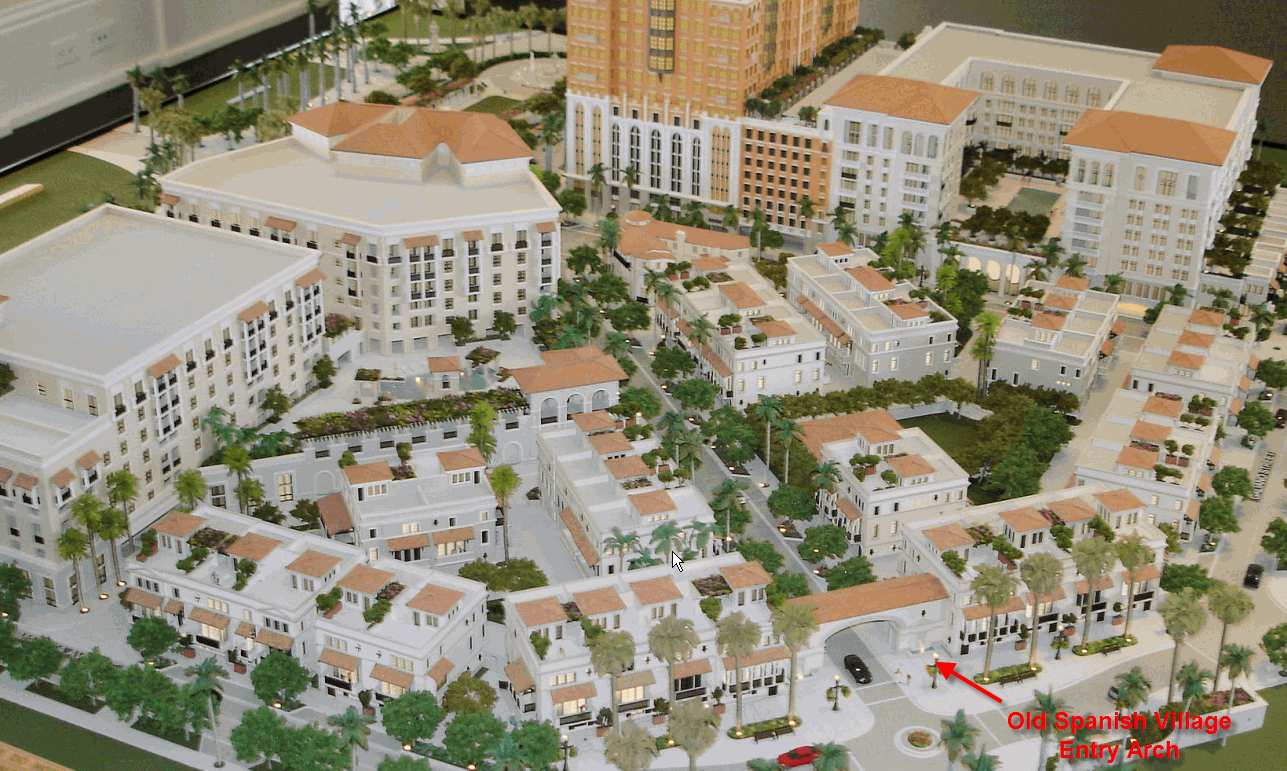 Links:
Miami Senior High School - 1930

Kiehnel and Elliott, architects
&nbsp
The power of music is bringing joy to Alzheimer"s patients at the...
8/17/2018 8:19 PM
The power of music is bringing joy to Alzheimer"s patients at the KBCC - and you can help support their work It"s no secret that music has the power to set the right mood: an upbeat song during a workout, a romantic ballad on a first date, a soothing lullaby to put a baby to sleep. But the power of music goes even deeper, experts say, and that"s...Read More
&nbsp
Feds: South Florida-based moving scam bilked more than 900 customers
8/17/2018 4:06 PM
Here are websites of some of the moving companies that federal authorities say bilked more than 900 people in a wide ranging scheme that primarily operated out of an office in Cincinnati. Twelve defendants have been charged, but only five have been arrested so far, including four in South Florida.Read More
&nbsp
235 Progressive Women Are Running for Public Office in Florida, Mirroring a National Trend
8/17/2018 11:39 AM
That"s according to Marika Lynch, chair of Ruth"s List Miami, the local branch of a statewide organization that recruits, trains and provides resources to left-leaning women running for state and local Ruth"s List Florida has raised more than $4 million and helped candidates win 81 races i...Read More
&nbsp
Rick Scott killed a high-speed rail plan. Then All Aboard rolled up and he bought it.
8/17/2018 7:03 AM
As one of his first acts in office in 2011, Gov. Rick Scott canceled a $2.4 billion federally funded and shovel-ready bullet train from Orlando to Tampa because it carried "an extremely high risk of overspending taxpayer dollars with no guarantee of economic growth." " It wa...Read More
&nbsp
Miami-Dade Schools scramble to place a cop on every campus by the first day of class
8/17/2018 2:32 AM
Community activists and residents joined Jorge Colina during his introduction as Miami"s new police chief at City Hall on Jan. 18. Colina said Thursday, Aug. 16, 2018, that he is unable to staff a police officer at each elementary and K-8 school within its city limits for the entire school day because of high crime rates. The Read More
&nbsp
Black lawmaker says Miami Democrats have a lyncheda him in primary
8/17/2018 2:32 AM
Incumbent state Rep. Roy Hardemon, left, is claiming the Democratic Party recruited attorney Dotie Joseph, right, to run against him in the Aug. 28 primary. Joseph Beauvil, center, a self-employed immigration consultant, is also running.Read More
&nbsp
Joe Carollo Accused of Slapping Ball & Chain Owner With False Complaints
8/17/2018 12:21 AM
There"s good reason Miami"s former mayor earned the nickname "Crazy Joe" Carollo . So when voters elected him to the city commission once again last fall, it"s no surprise he brought that gravitational mass of insanity back to Dinner Key.Read More
&nbsp
The biggest palm collection in the nation is in Miami. Can it be saved from sea rise?
8/16/2018 10:10 PM
Montgomery Botanical Center in Miami has the country"s biggest collection of palms and cycads. After Hurricane Irma, the garden"s director wondered what it would look like with a century of sea level rise.Read More
&nbsp
Video captures violent store robbery in Hollywood
8/16/2018 8:01 PM
It started with a nervous look to the sky. Two minutes later, two drones exploded.Read More
&nbsp
Cuban-American in House race blasts candidates for playing dominoes, altering name
8/16/2018 5:53 PM
Vance Aloupis , a candidate for the Republican primary in the Florida House District 115 race, is being criticized by Cuban-born political foe Jose Fernandez, also a candidate in the House race, for a TV commercial in which Aloupis - who is not Hispanic - wears a traditional Cuban guayabera and plays dominoes. Fernandez calls it "pandering."...Read More
---