George Merrick Entry Arches - City of Coral Gables - History
George E. Merrick (1886-1942) was a real estate developer who is best known as the planner and builder of the City of Coral Gables, Florida. It is one of the first planned communities in the United States. In 1921 the fist residential lots were sold in Coral Gables. Merrick offered free coral rock for building materials and many homes contained coral rock exterior walls. The historic Coral Gables entry arches, which also used the native coral, are designed in the Mediterranean theme of the architect Denman Fink's style and consistent with George Merrick's master plan for the City of Coral Gables. The important architects of that time were:
Walter de Garmo
Richard Kiehnel
Below is a map of the northern portion of the City of Coral Gables showing four historic arches and the new arch being constructed at the Old Spanish Village development east of Ponce de Leon Boulevard.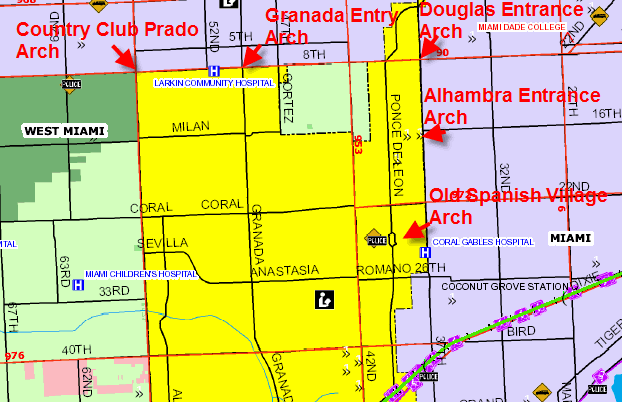 Granada Entry Arch, Coral Gables - Located at Granda Boulevard & S.W. 8th Street (Tamiami Trail).This arch is located on the south side of Tamiami Trial (also known as Calle Ocho or Eighth Street). Coral rock (limestone) from a local quary, later known as Venetian Pool, was likely used in its construction. The arch spans Granada Boulevard, which is a historic roadway in the City of Coral Gables. This north-south roadway travels through the heart of Coral Gables and along two public golf courses, the Granada and golf courses, both designed by Donald J. Ross. A painting titled Entry Arch to the City of Coral Gables shows the clay tile roof and flat arch of the Granada entry arch. The structure arch allows vehicles to pass underneath it entering and leaving the city.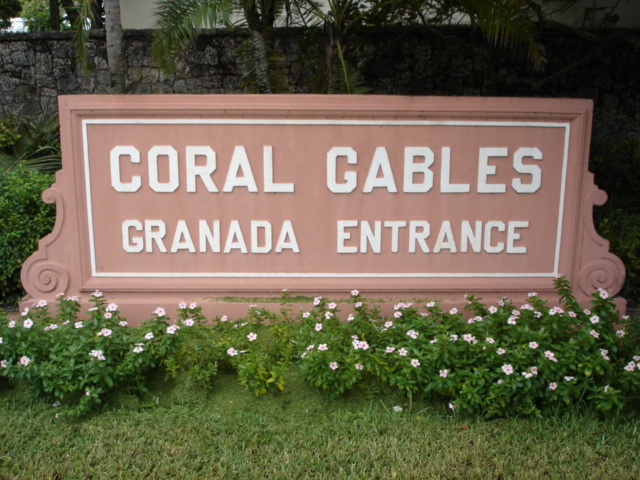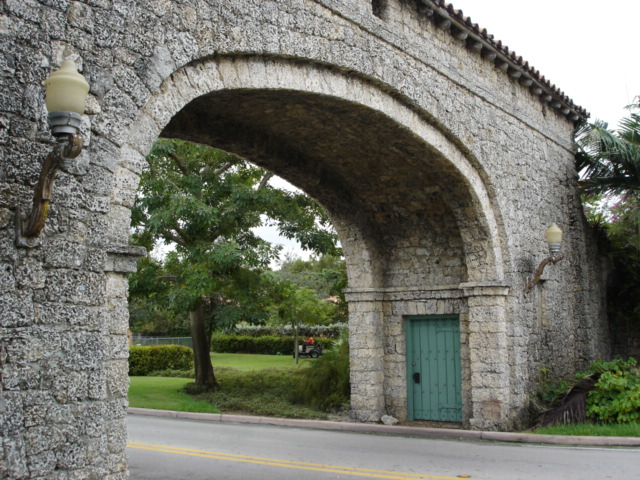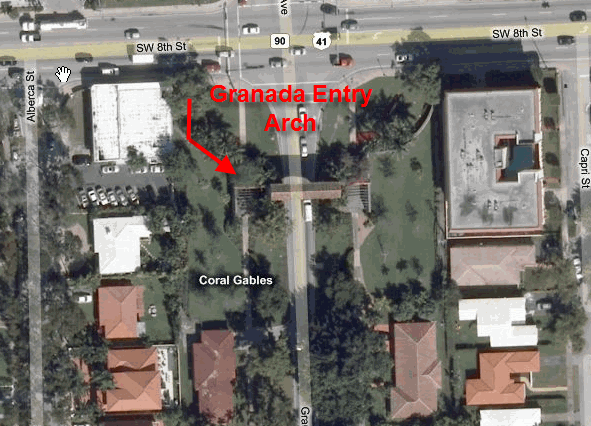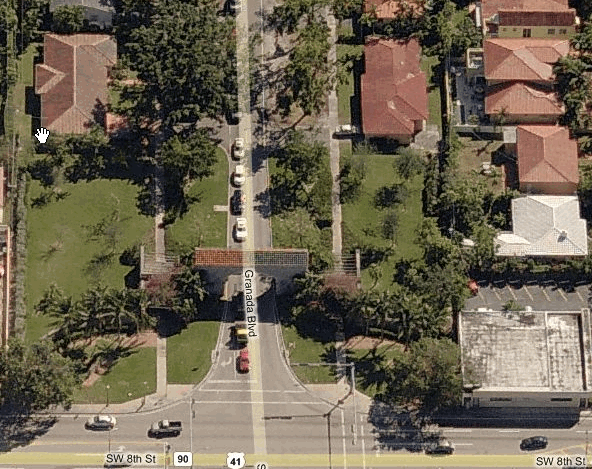 Country Club Prado Arch, Coral Gables -Located at the NW corner of the City of Coral Gables at S.W. 8th Street (Tamiami Trail) and S.W. 57th Avenue (Red Road). For years the Country Club Prado Arch has been a setting for photography. One often sees professional photographers at this site, and it is a favorite for wedding photos. There are two walkways covered by wood trellises providing interesting detail to the arches. Also, the structure is located on a center parkway running north and south which is similar to a piazza. Custom homes are located on both the east and west sides of the linear parkway.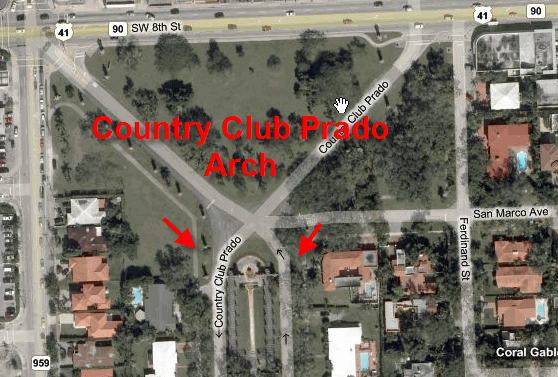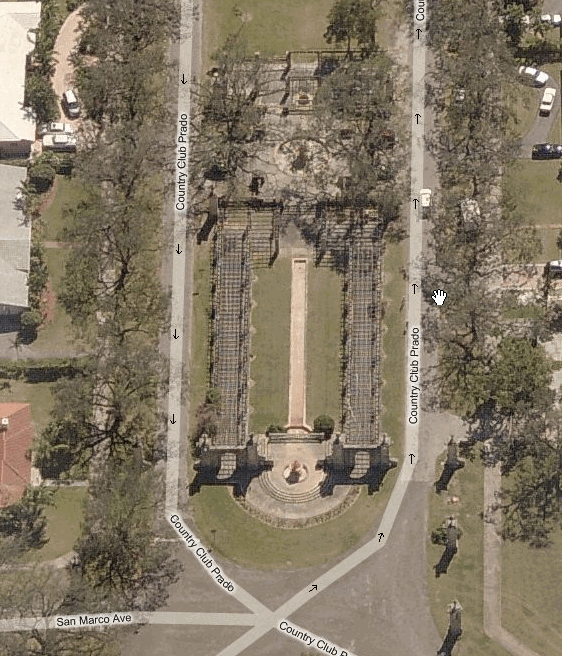 Alhambra Entrance Arch, Coral Gables - Located at S.W. 37 Avenue (Douglas Road), Majorca Avenue and Alhambra Circle.
The Alhambra entry arch is also known as the commercial entry to Coral Gables, as Alhambra Circle leads to the central business district of the City of Coral Gables and Miracle Mile. Miracle Mile is a well-known shopping district that has been revitalized over the past five years. At the west end of Miracle Mile is the Coral Gables City Hall located at 405 Biltmore Way. Designed in the "Mediterranean Revival" style, the architects were Denmond Fink and Phineas Paist. It is a major feature of Coral Gables' master plan and has an unobstructed views from both Le Jeune Road and Miracle Mile.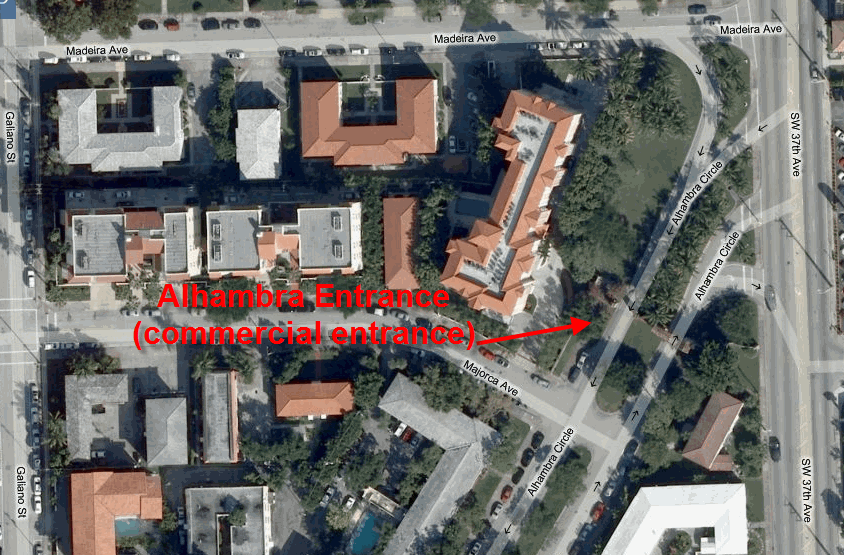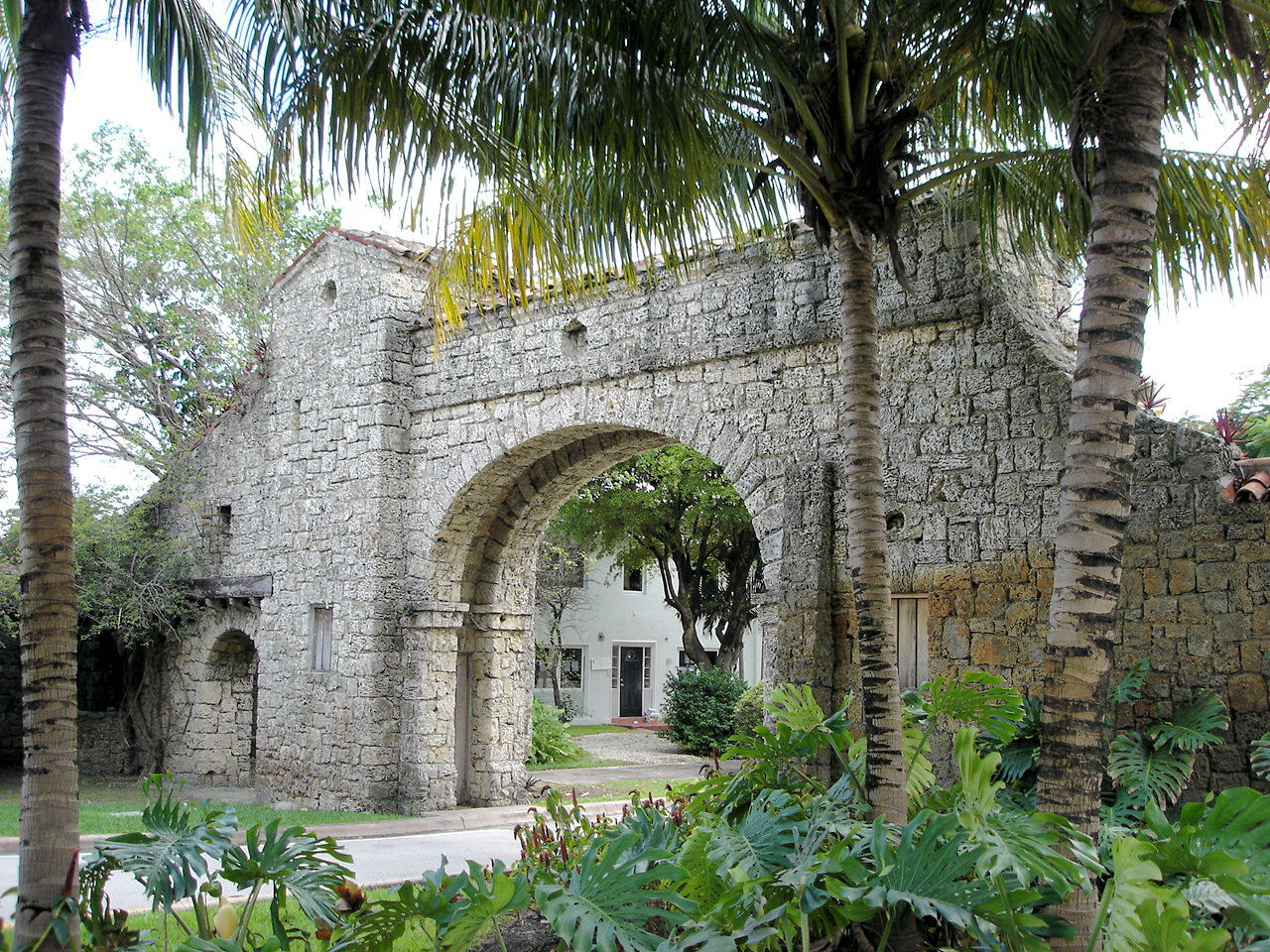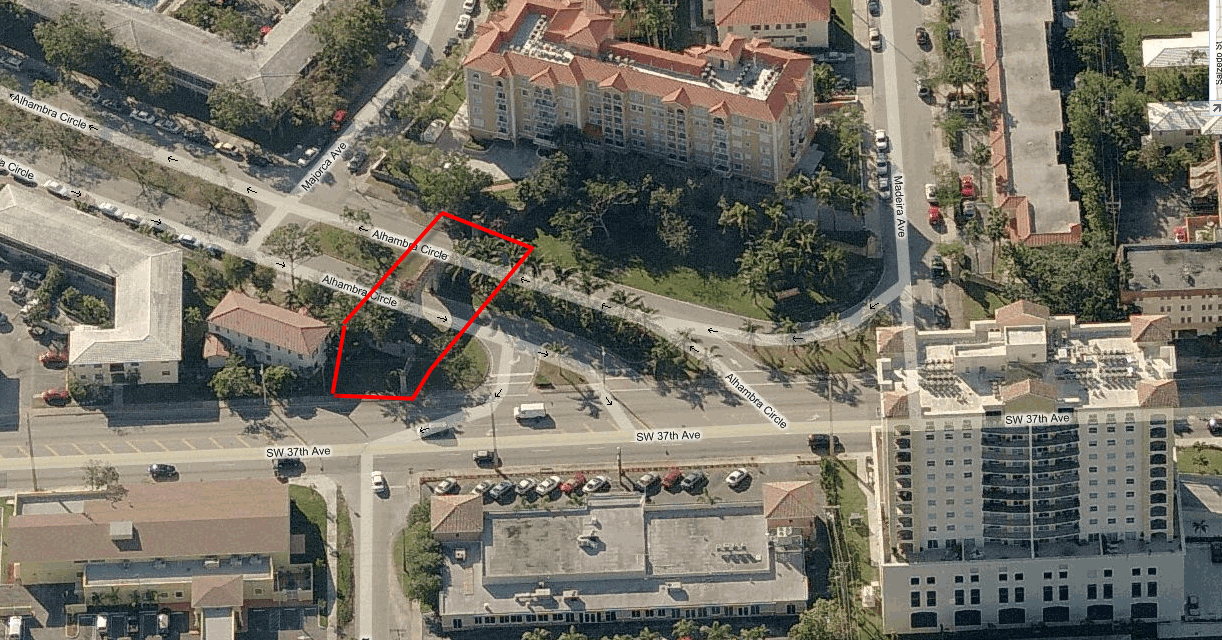 Douglas Entrance - Located at the SW corner of S.W. 8th Street (Tamiami Trail) and S.W. 37th Avenue (Douglas Road).
The Douglas Entrance was a collaboration between architects: Walter de Garmo, Denman Fink, and Phineas E. Paist. This is considered the main entrance to the City of Coral Gables. The architectural offices of Splliis Candella are located in a portion of the Douglas Entrance complex. The photo below is looking south and the building is angled 45 degrees along east Ponce de Leon Boulevard. The arch is so large that one can walk inside of it and over the roadway. A portion of its interior is the architecture office.
Old Spanish Village Arch, Coral Gables - Located along Coconut Grove Drive and forming part of the perimeter of the Old Spanish Village development. The arch is located at the bottom left of this close up photo of the model. A small rotunda is located to the east of the arch. This new development is located in the city's historic Arts and Crafts Section. The historic Arts Center and Architectural Headquarters of George Merrick's Coral Gables is part of the overall site plan, and the building was recently restored and houses an exhibit of the Coral Gables Museum. The location is within walking distance of Miracle Mile and the central business district to the north.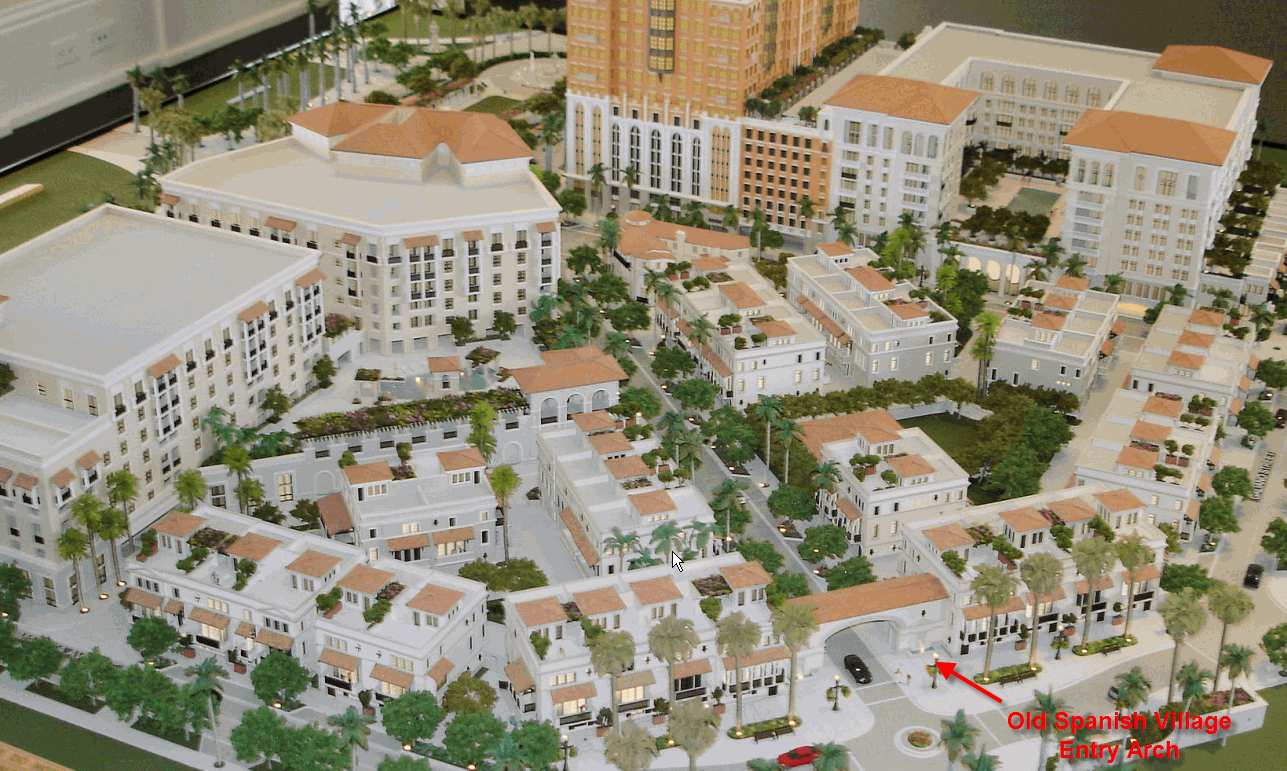 Links:
Miami Senior High School - 1930

Kiehnel and Elliott, architects
&nbsp
Ride Miami-Dadea s bus system for 24 hours? Are you nuts?
12/14/2018 6:00 AM
Azhar Chougle and Richard Hankins are embarking on a marathon even more masochistic than the standard 26.2-mile run. They will ride Miami-Dade County"s labyrinthine bus system for 24 hours straight.Read More
&nbsp
The Ten Best Holiday Parties in South Florida
12/14/2018 1:40 AM
The children"s voices on the airwaves summoning you to Santa"s Enchanted Forest are a good indicator that the holidays are here. The temperature has dropped below 70, and the ironic Christmas sweaters are coming out in full...Read More
&nbsp
Where to Get Coquito in Miami
12/13/2018 9:22 PM
Christmas is around the corner, and with it comes coquito. Sometimes called Puerto Rican eggnog, the recipe varies by household, but traditionally, it"s made with coconut cream, condensed milk, vanilla, cinnamon, and a healthy helping of rum.Read More
&nbsp
DJ Khaled"s Miami mega-mansion can be yours -- for $7.9 million
12/13/2018 7:11 PM
You can now live like a king in an Aventura mansion decked out with the music producer"s own personal touches, banging water view, 14k gold chandeliers, floor to ceiling windows, movie theater, and even a custom sneaker closet. The four-story estate features a massive room exclusively ...Read More
&nbsp
Feds charge two dozen Little Havana gang members behind spree of crime, violence
12/13/2018 7:11 PM
U.S. Attorney for the Southern District of Florida, Ariana Fajardo Orshan announced the unsealing of federal charges against a drug trafficking and money laundering organization operating in the Little Havana neighborhood. A Little ...Read More
&nbsp
Savvy businessman or sloppy lobbyist? Ex-city attorney"s job-shopping tactics questioned
12/13/2018 3:00 PM
Jose Smith, the former city attorney from Miami Beach - and then North Miami Beach - is contract shopping in Miami-Dade municipalities on behalf of Bryant Miller Olive, where he was recently hired to lead its new full-service municipal government practice. The longtime governmen...Read More
&nbsp
Once a fitness junkie, a Miami cop struggles to walk after brain surgery. How you can help
12/13/2018 10:41 AM
Miami Police Officer Joseph Flores, 27, is recovering from surgery for a brain tumor. A former fitness fanatic, Flores can now barely walk and talk.Read More
&nbsp
Suddenly, Kanye West is a nature enthusiast and sending messages to Elon Musk. Yes.
12/13/2018 6:25 AM
According to his Twitter account, the rapper, who has been in Miami for various Art Basel events since Thursday, has been really doing the rounds at Fairchild Tropical Botanic Garden . The following day, he wrote, "Landscaping is a conversation with God."Read More
&nbsp
Nigel Sylvester Hits the Streets of Miami for New "GO" Episode
12/13/2018 2:13 AM
After hitting the streets of London and Paris back in June, BMX er Nigel Sylvester returns state-side by taking fans to the sultry streets of Miami. Just like previous episodes, the sixth instalment of his GO series gives fans an immersive look at Sylvester"s life as a pro-athlete and influencer.Read More
&nbsp
Six Miami Restaurants and Bars to Try Now That Miami Art Week Is Over
12/12/2018 7:54 PM
Miami Art Week is one of the city"s most vibrant times of the year. Tens of thousands of artists, gallerists, and A-listers converge upon the area to observe, The only bad part is trying to get a reservation - or even a seat at the bar - at the newest and coolest restaurants and watering holes.Read More
---