George Merrick Entry Arches - City of Coral Gables - History
George E. Merrick (1886-1942) was a real estate developer who is best known as the planner and builder of the City of Coral Gables, Florida. It is one of the first planned communities in the United States. In 1921 the fist residential lots were sold in Coral Gables. Merrick offered free coral rock for building materials and many homes contained coral rock exterior walls. The historic Coral Gables entry arches, which also used the native coral, are designed in the Mediterranean theme of the architect Denman Fink's style and consistent with George Merrick's master plan for the City of Coral Gables. The important architects of that time were:
Walter de Garmo
Richard Kiehnel
Below is a map of the northern portion of the City of Coral Gables showing four historic arches and the new arch being constructed at the Old Spanish Village development east of Ponce de Leon Boulevard.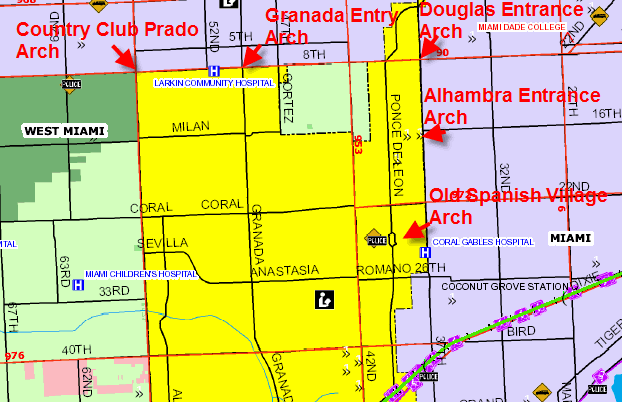 Granada Entry Arch, Coral Gables - Located at Granda Boulevard & S.W. 8th Street (Tamiami Trail).This arch is located on the south side of Tamiami Trial (also known as Calle Ocho or Eighth Street). Coral rock (limestone) from a local quary, later known as Venetian Pool, was likely used in its construction. The arch spans Granada Boulevard, which is a historic roadway in the City of Coral Gables. This north-south roadway travels through the heart of Coral Gables and along two public golf courses, the Granada and golf courses, both designed by Donald J. Ross. A painting titled Entry Arch to the City of Coral Gables shows the clay tile roof and flat arch of the Granada entry arch. The structure arch allows vehicles to pass underneath it entering and leaving the city.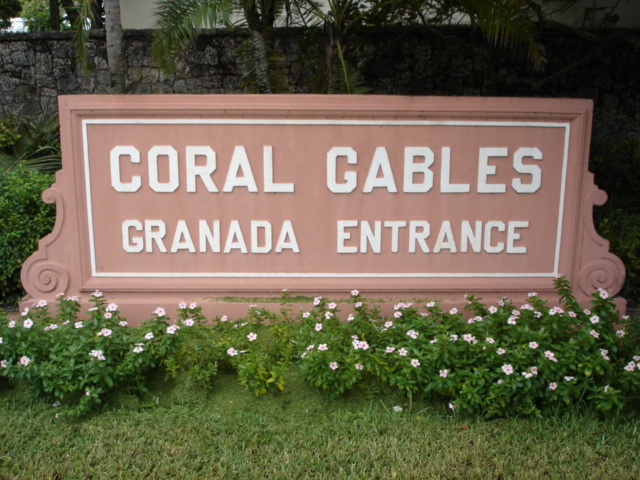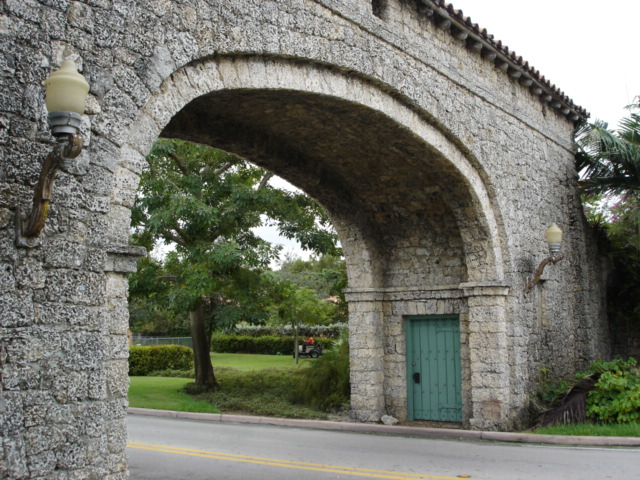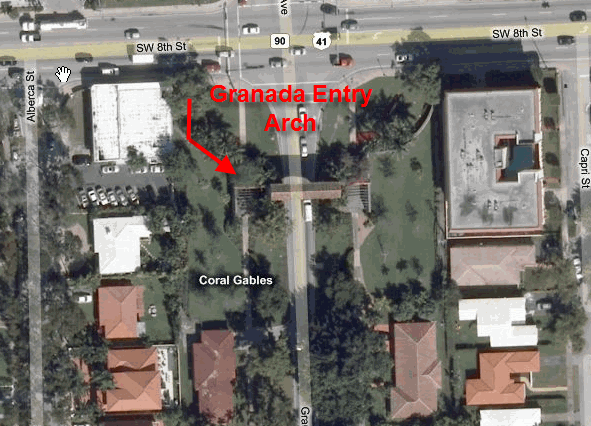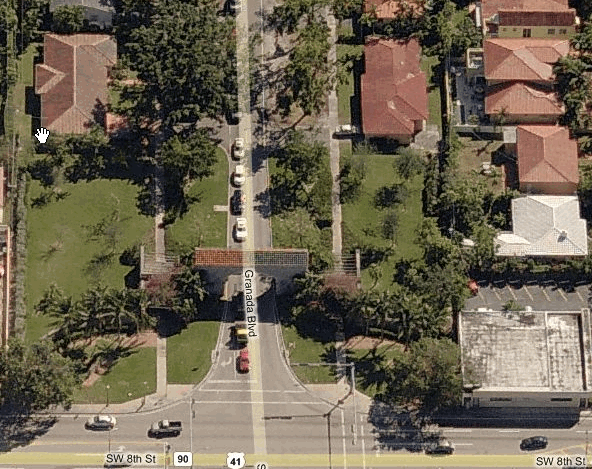 Country Club Prado Arch, Coral Gables -Located at the NW corner of the City of Coral Gables at S.W. 8th Street (Tamiami Trail) and S.W. 57th Avenue (Red Road). For years the Country Club Prado Arch has been a setting for photography. One often sees professional photographers at this site, and it is a favorite for wedding photos. There are two walkways covered by wood trellises providing interesting detail to the arches. Also, the structure is located on a center parkway running north and south which is similar to a piazza. Custom homes are located on both the east and west sides of the linear parkway.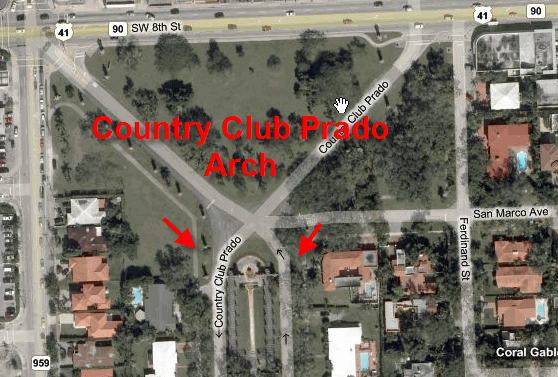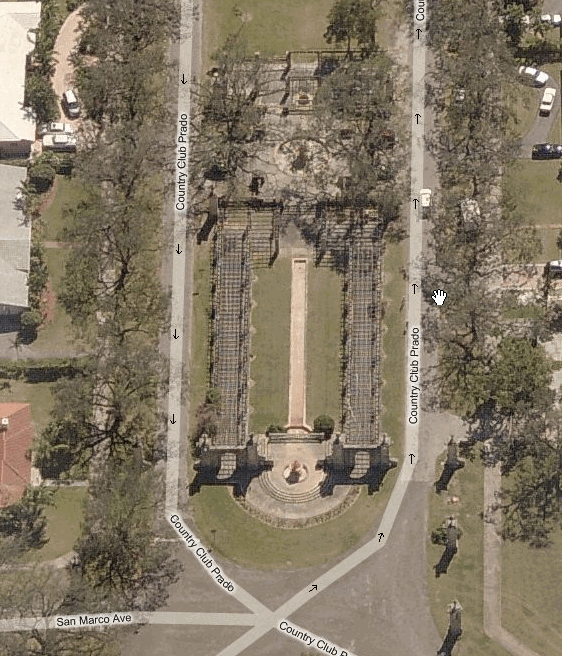 Alhambra Entrance Arch, Coral Gables - Located at S.W. 37 Avenue (Douglas Road), Majorca Avenue and Alhambra Circle.
The Alhambra entry arch is also known as the commercial entry to Coral Gables, as Alhambra Circle leads to the central business district of the City of Coral Gables and Miracle Mile. Miracle Mile is a well-known shopping district that has been revitalized over the past five years. At the west end of Miracle Mile is the Coral Gables City Hall located at 405 Biltmore Way. Designed in the "Mediterranean Revival" style, the architects were Denmond Fink and Phineas Paist. It is a major feature of Coral Gables' master plan and has an unobstructed views from both Le Jeune Road and Miracle Mile.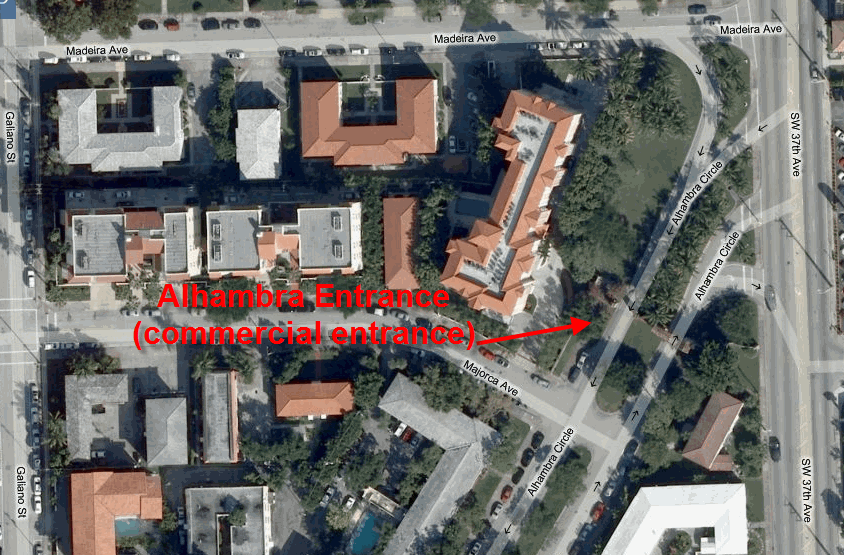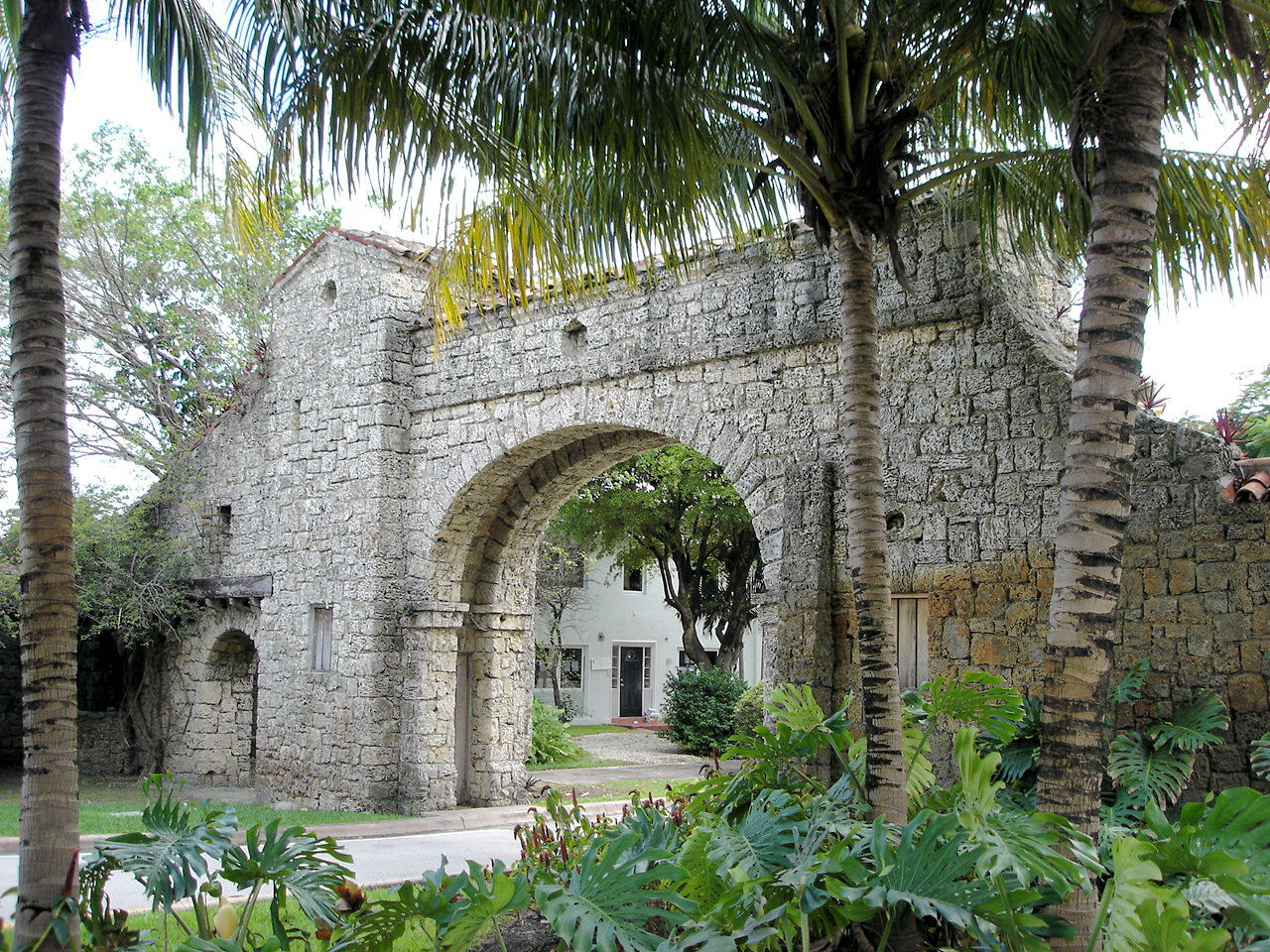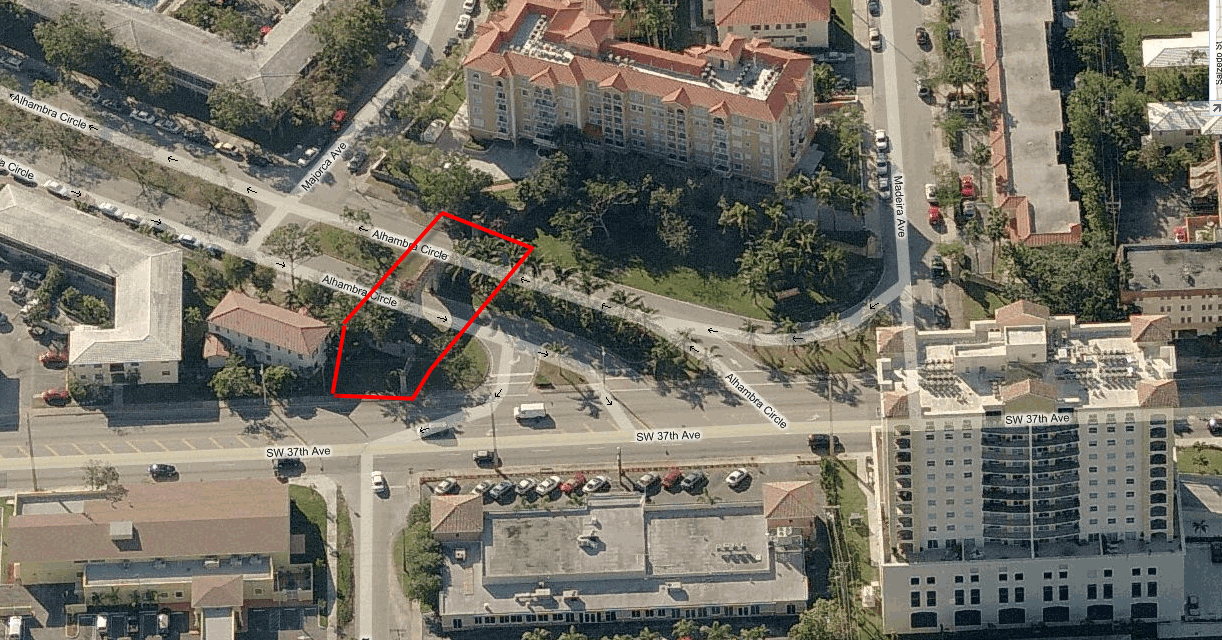 Douglas Entrance - Located at the SW corner of S.W. 8th Street (Tamiami Trail) and S.W. 37th Avenue (Douglas Road).
The Douglas Entrance was a collaboration between architects: Walter de Garmo, Denman Fink, and Phineas E. Paist. This is considered the main entrance to the City of Coral Gables. The architectural offices of Splliis Candella are located in a portion of the Douglas Entrance complex. The photo below is looking south and the building is angled 45 degrees along east Ponce de Leon Boulevard. The arch is so large that one can walk inside of it and over the roadway. A portion of its interior is the architecture office.
Old Spanish Village Arch, Coral Gables - Located along Coconut Grove Drive and forming part of the perimeter of the Old Spanish Village development. The arch is located at the bottom left of this close up photo of the model. A small rotunda is located to the east of the arch. This new development is located in the city's historic Arts and Crafts Section. The historic Arts Center and Architectural Headquarters of George Merrick's Coral Gables is part of the overall site plan, and the building was recently restored and houses an exhibit of the Coral Gables Museum. The location is within walking distance of Miracle Mile and the central business district to the north.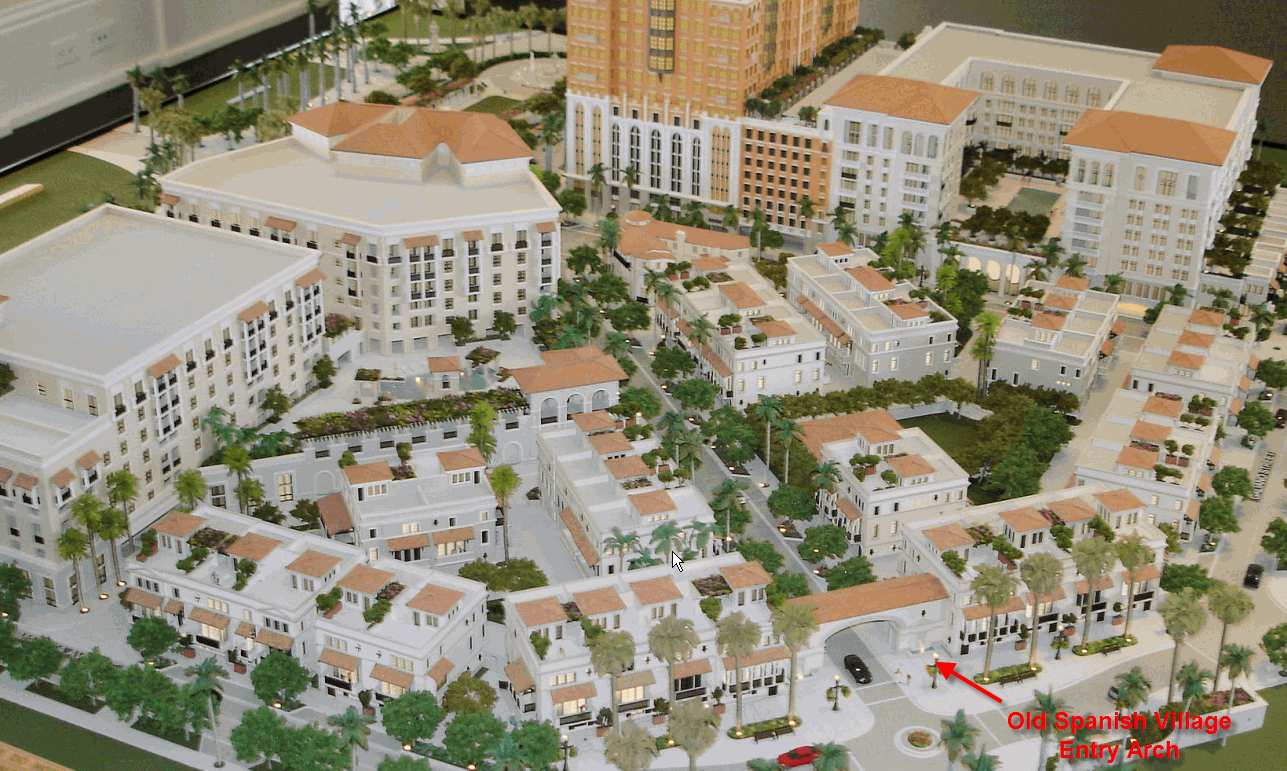 Links:
Miami Senior High School - 1930

Kiehnel and Elliott, architects
&nbsp
Inside CMX Movie Theater, Brickell City Centre"s New "VIP Cinema Experience"
4/25/2017 4:04 PM
Down the street from the bums on Brickell and around the corner from Blackbird Ordinary, there is a gleaming, chrome and concrete monolith poised to transform one of the more blighted and ignored areas of downtown. It"s a concept familiar to anyone who"s frequented an upscale movie theater.Read More
&nbsp
Miami"s 12 Essential Cuban Restaurants
4/25/2017 11:17 AM
More a sizzling skillet than a melting pot - Miami"s rich Cuban influences have defined this city for more than 50 years, and nothing speaks to the culture of a community more than its culinary offerings. Whether you"re craving a cafecito, and a croqueta at a ventanita, or a more substantial meal, Miami"s top Cuban restaurants are sure to satisf...Read More
&nbsp
Son of Miamia s mayor announces campaign for City Commission
4/25/2017 11:17 AM
More than 20 years after his father made the jump from Miami media member to politician, the eldest son of Miami"s mayor is hoping to follow in TomA s P. Regalado"s footsteps. The younger Regalado acknowledged in an interview that after months of hedging he"s decided to run to represent the city"s third district, which stretches from West Bricke...Read More
&nbsp
The Ten Best Places to Spot a Celebrity in Miami
4/25/2017 8:46 AM
Imagine the life you"d lead with coffers of disposable income, and the gluten-free, zero-calorie bread crumbs will appear. Miami has always been a playground for famous folks, and with more gleaming one-percenter hotels towering in the skyline, odds are you"ll bump into a star who"s out and about getting stuck in traffic in the back seat of a Ro...Read More
&nbsp
Velvet Creme Doughnuts to Open on Calle Ocho
4/25/2017 6:18 AM
It"s been more than a year and a half since Velvet Creme , an iconic Miami doughnut shop, announced its reopening after a 15-year hiatus. As of Monday, April 17, the store officially broke ground on Calle Ocho, signaling a resurrection of its original flagship location, which opened on Eighth Street Street in 1947.Read More
&nbsp
Groveites appeal decision to demolish historic Playhouse auditorium
4/25/2017 1:25 AM
A pair of neighbors have formally challenged a city of Miami board"s approval of a controversial plan that would allow demolition and replacement of the auditorium at the historic but long-closed Coconut Grove Playhouse. Grove residents Barbara Lange and Katrina Morris filed a notice of appeal of the historic preservation board"s April 4 decisio...Read More
&nbsp
Developer offers Miami-Dade a $300 million courthouse. Rent: $1.8 billion over 99 years.
4/24/2017 8:39 PM
A Miami developer wants to build a $300 million courthouse for Miami-Dade in exchange for an $18 million yearly lease stretching into the next century and the ability to convert the existing tower into a for-profit complex with shops and offices. The unsolicited proposal by developer Russell Galbut would deliver Miami-Dade a modern courthouse ac...Read More
&nbsp
Accused Cocaine Cowboy on lam for 26 years is transferred to Miami to face charges
4/24/2017 3:49 PM
Gustavo Falcon, the Cocaine Cowboy who got away for 26 years, was transferred to Miami from Orlando on Monday by the U.S. marshals who captured him nearly two weeks ago after the accused drug trafficker took a long bike ride with hi...Read More
&nbsp
When Airbnb goes wrong: A Miami story
4/24/2017 1:27 PM
Jose Gonzalez was walking his two sons to his car early one morning to drive them to school when he glanced across the street and had to do a double-take. "It"s 7 in the morning and some guy is changing, opening the back of the trunk of his car, taking out his clothes, and pulling down his pants.Read More
&nbsp
How Miami got a mall on the bay a " and what happened next
4/24/2017 8:29 AM
The bayfront stretch in downtown Miami once was the home to a fleet of fishing boats. That all changed in April, 1987, 30 years ago.Read More
---