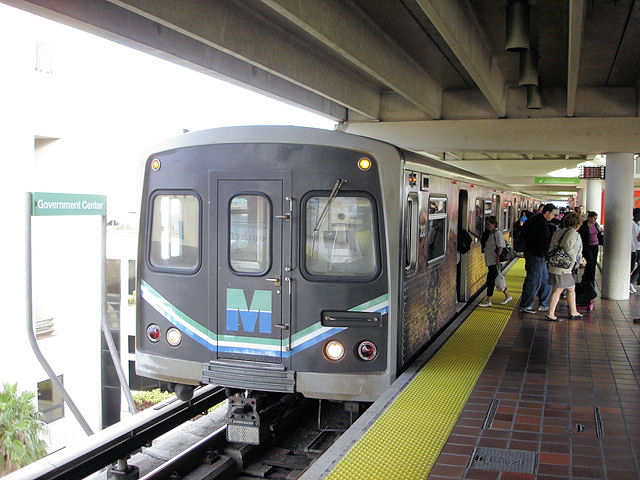 View of the Budd Company's stainless steel trains. The trains run in "married-pairs" on steel track powered by a 700 volt direct current electrical system. The "hot" or third rail can be seen on the left. It is elevated and contains a protective cover. A collector shoe runs along this third rail powering the trains. This system uses state-of-the-art technology with 100 year old rail technology with fixed axels and wheels.
The 22 mile long system has 19 stations approximately one mile apart. In southwest Miami-Dade the line sections run along the old Florida East Coast Railway easement, which was acquired by Miami-Dade Transit. The 200,000 square foot William Lehman Center (formerly Palmetto Yard), is an 80 acre maintenance facility for the cars located in northwest Miami. This facility also contains a train wash faciltiy.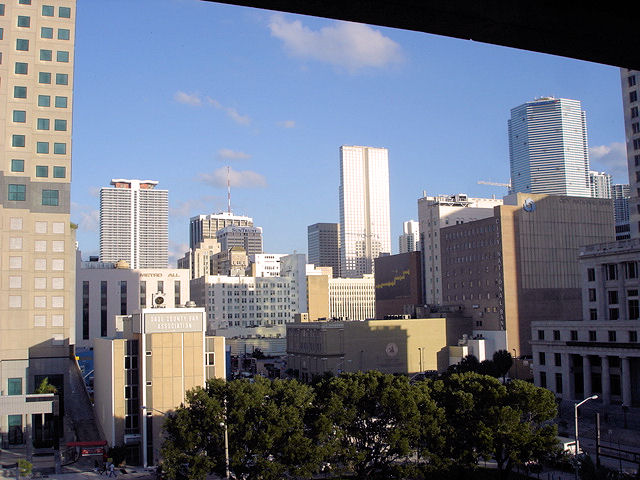 View east from the Government Center Station's platform. This station is a center loading station as opposed to the Civic Center Station where the tracks run in the center of the station with cantilevered platforms. The Miami-Dade Courthouse can is located on the right, City National Bank Building, One Biscayne Tower, 50 Biscayne, Wachovia Financial Center and the Federal Courthouse can be seen in this photo.
View south from the Government Center Station. This station connects with Metro Dade's Stephen P. Clark Center housing most of Miami-Dade's government offices. The People Mover or Metromover connects with the Metrorail at Government Center. The Metromover provided free access to Brickell, Downtown, and the Omni areas. The Latitude on the River can be seen in the background as well as the Historical Museum of South Florida t the right of the photo.
Miami-Dade Buildings - Links: (hit backspace to return)
Four Seasons Hotel & Tower • Wachovia Financial Center • Marquis Miami • 900 Biscayne Bay • Infinity at Brickell • Bank of America Tower • Marinablue • Plaza on Brickell Tower I • Icon Brickell North Tower • Icon Brickell South Tower • Ten Museum Park • 50 Biscayne Tower • Quantum on the Bay South Tower • Opera Tower • Everglades on the Bay North Tower • Everglades on the Bay South Tower • Quantum on the Bay North Tower • Jade at Brickell Bay • Plaza on Brickell Tower II • Santa Maria • The Ivy • Wind • Epic • One Biscayne Tower • Espirito Santo Plaza • Miami Center • Asia • Brickell on the River North Tower • Three Tequesta Point • Avenue on Brickell East Tower • Latitude on the River • Viceroy Tower One Miami East Tower • 701 Brickell Avenue • One Miami West Tower • Met 1 • The Loft 2 • Mellon Financial Center • 500 Brickell West Tower • 500 Brickell East Tower • Blue on the Bay • Vue at Brickell • 1800 Club • Brickell on the River South Tower • The Mark on Brickell • Axis at Brickell Village South Tower • Axis at Brickell Village North Tower • One Broadway • The Club at Brickell Bay • Two Tequesta Point • Carbonell Condominium • Courthouse Center • The Palace • The Grand Doubletree